VUU to take on VSU Feb. 22 at Barco-Stevens Hall
The rematch between Virginia Union and Virginia State universities on Saturday, Feb. 22, might be billed "No. 1 scorer versus No. 1 team."
VUU senior Terrell Leach leads the CIAA in scoring, steals and 3-point connections and is a top candidate for Player of the Year.
Meanwhile, VSU has clinched the CIAA Northern Division title and has been at the head of the class of the conference despite a January home loss to VUU.
The VSU Trojans are heading to the CIAA Tournament Feb. 25 through 29 in Charlotte, N.C., as the Northern Division top seed and a likely favorite to repeat as champion.
The VUU Panthers' Leach, wearing jersey No. 0, has been brilliant in his second season after transferring from Winston- Salem State University.
The 6-foot guard averages 23.7 points while hitting an average of 3.5 3-pointers per contest. He also leads the CIAA with 1.5 steals per game.
Leach has been on an almost historical run of late for Coach Jay Butler. In the last six games, he has averaged 30.1 points, with highs of 42 points against St. Augustine's University and 38 points against Johnson C. Smith University.
He has nailed 27 3-pointers during that run and has sunk 54 of 63 free throws for 87 percent.
Only Mike Davis in the late 1960s and A.J. English in 1990 were ever hotter wearing VUU's maroon and steel togs.
By contrast, VSU's scoring is more by committee for Coach Lonnie Blow.
While the Trojans average a CIAA best 81.8 points per game, the highest scoring individual is B.J. Fitzgerald, whose average 11.6 points per game ranks just 23rd.
A leading light of late has been 6-foot-7 senior Armond Griebe. The transfer from Mount Olive, N.C., has scored 19, 12, 14 and 20 points in his last four outings.
Born in Belgium to a military family, Griebe moved to Virginia as a teenager and helped Potomac High School of Woodbridge to the 2014 State 5A title.
Making his last Richmond appearance will be VSU senior Walter Williams, who averages 11.4 points while hitting 45 percent of his 3-pointers and 83 percent at the foul line.
Like Griebe, Williams is a former state champion. The 6-foot-4 wing was key to Henrico High School's 2015 State 5A crown at Virginia Commonwealth University's Siegel Center.
This will be third season VUU has hosted VSU at Barco-Stevens Hall, its cozy campus facility. For decades, the Panthers conducted it home game against the VSU Trojans at the Richmond Coliseum as part of the Freedom Classic. Before that, VUU-VSU games were held at the Arthur Ashe Jr. Athletic Center and the Richmond Arena.
The move to campus resulted from the Coliseum's closing. VUU defeated VSU 75-67 last year.
VUU game attendance has been spotty this season but a full house is assured for this top attraction.
•••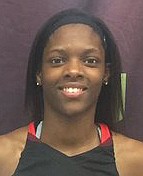 While the men's game could be billed a "toss-up," the Lady Panthers are heavy favorites over the VSU women's team.
Coach AnnMarie Gilbert's Lady Panthers are 20-3 overall and 11-3 in the CIAA. The Lady Panthers defeated the Trojans 61-47 on Jan. 18 in Ettrick.
Shameka McNeill leads VUU with a 12 point average per game. Jasmine Carter averages 11 points and eight rebounds.
The Trojans, 9-18 overall and 4-10 in the CIAA, are led by 5-foot- 9 Natalia Leaks. The junior from Florida leads in scoring (11.3 points per game), rebounds (5.7) and also in assists and steals.