Governor, lawmakers hit the basketball court for cancer research
Emma Gauthier/Capital News Service | 2/28/2020, 6 a.m.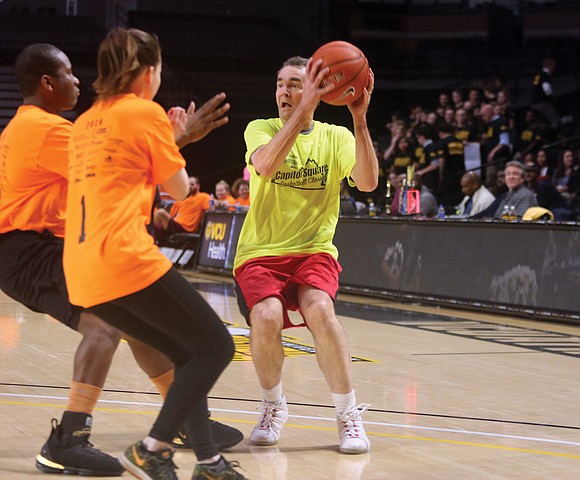 The governor, lobbyists, legislators and their assistants left Capitol Square last Thursday to face off on the basketball court for a cancer research fundraiser.
The game raised nearly $32,000 for the Virginia Commonwealth University Massey Cancer Center.
The Massey Capitol Square Classic pit- ted the Governor's Office and special guests against lobbyists for one game and members of the House of Delegates against state Senate members in another match. The event, held at VCU's Siegel Center, is in its 12th year.
"We're finding new cures everyday for cancer and I just thank you all for that," Gov. Ralph S. Northam said. "We're all here to have a good time, and I hope everybody is safe and has a lot of fun. So let's get ready to play ball."
Gov. Northam broke out his red basketball shorts to play among team members from his office. The Governor's Office held a strong lead throughout the first game and won 42-25.
"We are committed to trying to find cures for diseases that we do not have today," VCU President Michael Rao said. "It takes a lot of work and tremendous research to help us get to the place where we need to be."
The House and Senate teams consisted mainly of legislative assistants, although there was a rule that each team must have two legislators on the court at all times.
TheSiegelCenterwasfilledprimarilywith House and Senate pages, teenagers involved in a program to assist in the legislative process during the General Assembly session.
During halftime, the pages battled each other in a "spirit contest" to see who could cheer the loudest. Rodney the Ram, VCU's mascot, awarded the Senate pages the spirit trophy.
While the Senate appeared to have the rowdiest fans, that didn't stop the House from stealing the game. Tension in the arena rose when the Senate held a 2-point lead. With less than a second on the clock, the House landed a 3-point shot, winning the game 26-25.
House pages immediately flooded the court to celebrate with their team. House Speaker Eileen Filler-Corn, D-Fairfax, stood at the center holding the trophy, chanting, "This is our house."
"I want to thank the folks in the House and Senate because I know that, like everything, the only way to beat cancer is as a team," said Dr. Robert Winn, the new director of the Massey Cancer Center.