NFL conference championships on Sunday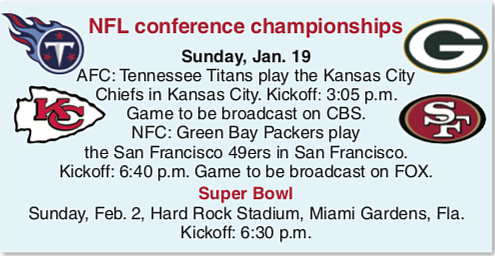 Of the four NFL teams in contention for the conference championship, only the Tennessee Titans have never won a Super Bowl. The Titans reached a pinnacle game in 1999, losing to the St. Louis Rams 23-16.
Originally the Houston Oilers, the franchise won AFL titles in 1960 and 1961.
The franchise moved from Houston to Nashville in 1997.
The Kansas City Chiefs, originally the Dallas Texans, won the 1969 Super Bowl 23-7 over the Minnesota Vikings. Among the Chiefs' stars that season was Richmonder Willie Lanier.
The Green Bay Packers won the first two Super Bowls in 1966 and 1967, and added two more in 1996 and 2010. The fullback on the 1996 team was William Henderson from Thomas Dale High School in Chester.
Founded in 1944, the San Francisco 49ers have won five Super Bowl titles — in 1981, 1984, 1988, 1989 and 1994.