Arthur Ashe's life story coming to the big screen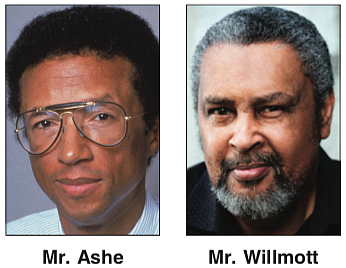 The life of legendary tennis great and local hometown hero Arthur Ashe Jr. will be told in a film by an Oscar-winning writer and an Indian movie producer and former international tennis competitor who once played Mr. Ashe and lost.
Academy Award winner Kevin Willmott, co-writer of Spike Lee's latest film "Da 5 Bloods" and his 2018 movie "BlacKkKlansman," is writing the screenplay for the project with producer Ashok Amritraj of Hyde Park Entertainment and Warner Music Group to create a biopic about the late Mr. Ashe, the only Black tennis player to win the men's single title at the U.S. Open, Wimbledon and the Australian Open.
The late Mr. Ashe grew up learning to play tennis on segregated public courts in Richmond, and rose through time to become one of the greatest tennis stars of all time. The film about Mr. Ashe not only will talk about Mr. Ashe's triumphs on the courts but about his achievements in battling discrimination.
"It's about the man, about his growing up and making it as a Black man in a white man's world," Mr. Amritraj told the U.K. Guardian newspaper. "Arthur was so much more than a great tennis player ... while he did have a voice in the civil rights in the U.S., he really found his voice (opposing) the apartheid policies of South Africa."
The film project has the full support of the Arthur Ashe Estate. Mr. Ashe's widow, Jeanne Moutoussamy-Ashe, is one of the film's executive producers.
Mr. Ashe won the U.S. Open and was ranked No. 1 in the world in 1968, the year the United States struggled with the assassinations of Dr. Martin Luther King Jr. and Robert F. Kennedy, the Civil Rights Movement and anti-Vietnam War protests.
He was able to forge his role within the Black revolution in America, finding his own unique voice as he struck a bold new path against apartheid in South Africa and helped open the country to freedom.
The film's soundtrack will include music from the era, highlighting the works from iconic African-American artists including Aretha Franklin, Prince, Curtis Mayfield and others. Warner Music Group will help secure the music and provide creative guidance.
Mr. Ashe retired from tennis in 1980 but remained active in a myriad of educational, human rights and philanthropic pursuits.
In April 1992, Mr. Ashe announced that he had contracted AIDS from a blood transfusion during heart bypass surgery. He spent the last year of his life working to create public awareness and understanding of HIV and AIDS. He died at age 49 on Feb. 6, 1993, and is buried in Woodland Cemetery in Richmond, next to his mother. He would have been 77 on July 10. The film's producer, Mr. Amritraj, 64, was a tennis professional himself. He and his older brothers, Vijay and Anand Amritraj, were among the first Indians to play in top-flight international tour tennis.
Mr. Amritraj played in every major tennis tournament during his nine-year career, including Wimbledon and the U.S. Open. He won the World Team Tennis Championship in 1978 and the MVP award.
He also played Mr. Ashe in the mid-1970s in St. Louis and lost, but his admiration has remained. He calls Mr. Ashe a "charismatic" player as well as "a gentleman and an intellectual."
As chairman and chief executive officer of Hyde Park Entertainment, a company he started in 1999, Mr. Amritraj has collaborated with every major studio to produce numerous Hollywood hit films with some of the biggest stars, including Steve Martin, Queen Latifah and Angelina Jolie.
"I am honored to bring Arthur's story to the screen," he said.