Trump refuses to hold official White House portrait unveiling for President Obama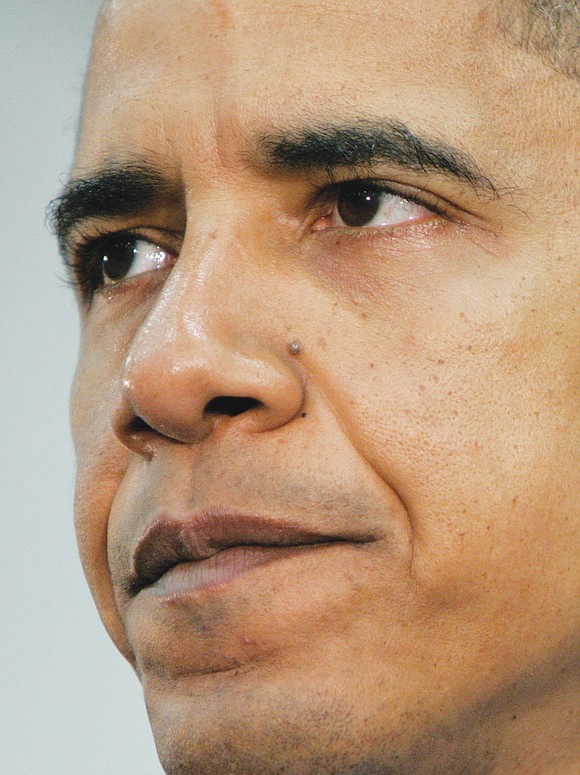 WASHINGTON - President Trump is showing his true colors again.
The 45th president will not be unveiling the official White House portrait of his predecessor, former President Barack Obama.
NBC News reported recently that the event, a tradition held by the sitting president for his predecessor, wasn't on the Trump calendar and may not occur while President Trump holds office, even through a potential second term.
"It could be 2025" before President Obama's portrait unveiling happens, the report stated.
The official White House portraits are different from the portraits that hang in the National Portrait Gallery. The portraits of former President Obama by artist Kehinde Wiley and former First Lady Michelle Obama by artist Amy Sherald that were unveiled in February 2018 at the National Portrait Gallery prompted a record number of visitors.
The White House unveiling ceremony tradition dates back decades and represents a moment of harmony and camaraderie among the exclusive group of former chief executives who occupied the White House.
Former President Jimmy Carter requested not to have a ceremony for the unveiling of his portrait.
During Mr. Obama's presidency, he hosted former Presi- dent George W. Bush and former First Lady Laura Bush for their official portrait unveilings. Mr. Obama said at the time, "We may have our differences politically, but the presidency transcends those differences."
President Trump, however, has difficulty transcending differences and repeatedly has tried to dismantle many of the laws and gains made under former President Obama's administration. Recently, President Trump accused President Obama of unjustly targeting his associates in what he called "Obamagate" and called on the Senate Judiciary Committee to call the former president to testify in hearings about the investigation into Russian interference in the 2016 presidential election.
But President Trump has yet to explain what crime he thinks former President Obama committed despite claiming it the former president "committed the biggest political crime in American history."
For his part, former President Obama reportedly has "no interest" in taking part in the portrait tradition while President Trump occupies the White House.
Since leaving office, the former president usually remains mum about President Trump. But in a mid-May virtual commence- ment address for the Class of 2020, former President Obama criticized President Trump on his mishandling of the COVID-19 crisis without specifically naming him. Mr. Obama said many U.S. leaders "aren't even pretending to be in charge" during the pandemic.
Additionally, in an earlier phone call with 3,000 people who served in his administration, the former president called the response to the coronavirus pandemic an "absolute chaotic disaster."
Senate Majority Leader Mitch McConnell, a Republican from Kentucky, said former President Obama "should have kept his mouth shut" over the current administration's handling of the pandemic, adding that he thinks "it's a little bit classless, frankly, to critique an administration that comes after you."
According to reports, presidents 44 and 45 have met only one since President's Trump inauguration day, and that was at the funeral for former President George H.W. Bush in 2018.
During a Fox News town hall, President Trump said of their interaction, "Sat next to him, and I said, 'Hello.' And then I said, 'Goodbye.' That's about it."