Starting as a pastor in the midst of a pandemic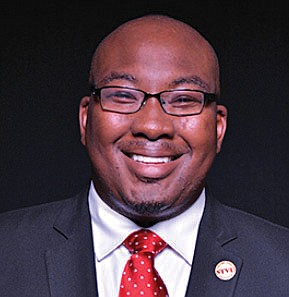 When he arrives in mid-April, Dr. Mitchell, who has earned attention for his 2018 book, "Black Millenials and the Church: Meet Me Where I Am," will take over from the Rev. Alvin Campbell, a retired Henrico County schoolteacher and associate minister, who has served as interim pastor for the past two years following the retirement of Dr. Morris G. Henderson in January 2018.
Thirty-first Street, which traces its roots to 1875 and its actual founding to 1915, received 117 applications for the pastor's position and winnowed them down to six finalists, according to Dr. Peyton McCoy, a consultant on business and leadership strategies.
Dr. McCoy said a VUU seminary professor encouraged the church to invite Dr. Mitchell to apply. She said Dr. Mitchell quickly moved to the top of the list based on his ability to relate to people, his preaching ability and his experience as a youth minister at the 15,000-member Wheeler Avenue Baptist Church in Houston where he has overseen a staff of 10.
Dr. McCoy said Dr. Mitchell impressed everyone during his three-day visit to Richmond in early February with his ability to connect with people and with his sermon. "None of the other finalists came close," she said.
Dr. Mitchell has been with Wheeler Avenue Baptist Church since 2013. He and his pediatrician wife, Dr. Lori Mitchell, moved to Galveston, Texas, after he graduated from VUU's divinity school in 2012 so she could start medical school at the University of Texas Medical Branch at Galveston. The couple now has a year-old son.
"I didn't know anything about Thirty-first Street," he said when he was first approached, but said he found himself increasingly attracted as he went through the process.
When he visited in February, he said, "I found a group of loving people and a church with a beautiful sanctuary and a greater potential to be a blessing for the community and the Richmond area."
He said he was impressed that the church has long had a Boy Scout troop as part of its commitment to young people, has a community garden to provide fresh food and operates a feeding operation for those in need.
"The church has laid a good foundation," he said, "and has a potential for growth, not just as a place of worship, but as a greater resource for everyone from young people to seniors in the community and the Greater Richmond area."