Not for timid or dainty, River City Sting looking for a few good women for tackle football
Fred Jeter | 11/12/2020, 6 p.m.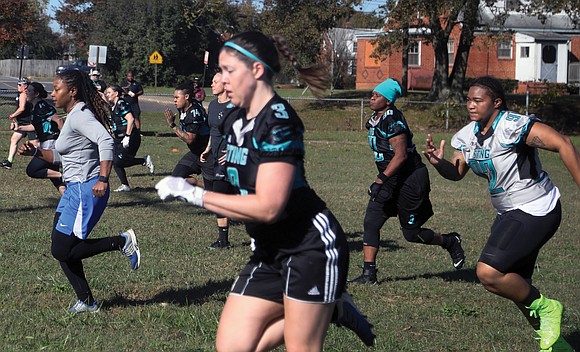 More conservative types tend to prefer the comfort, safety and predictability of the same ol', same ol'. They're creatures of habit.
But others opt to take a walk on the wild side.
For the far more adventurous, there is the fledgling River City Sting women's full tackle football team.
Not for the timid and dainty, this women's team is more powerhouse than powderpuff.
"It's for those itching to do something different," said C.J. James, the team's owner/president/running back/slot receiver.
The Sting is practicing and conducting tryouts now and plans to begin its inaugural season in early spring 2021.
There is no set list of qualifications for players.
"We'll take 'em all shapes and sizes. It's for women wanting to be different and to have a good time," James added.
Experience is preferred, but not required.
"If you've never played, that's OK. We'll teach you what you need to know," James said.
Let's take a peek into the Sting huddle.
Come one, come all: The team is conducting open tryouts on Saturday, Nov. 14 and Nov. 21, at Montrose Elementary School, 2820 Williamsburg Road, in Eastern Henrico. There is a one- time, $20 tryout fee. Tryouts are from 10 a.m. to noon.
Colors: The River City Sting players wear black and teal – "The Real Deal of Teal."
Mascot: The scorpion.
Rules: Same as men's football.
Conference: United States Women's Football League. Other affiliates — Fayetteville, N.C., Ducks; Hampton Roads HER-ricanes; Tri-Cities Thunder in Tennessee; Hampton Vipers; West Virginia Tyrants; Memphis Legacy; and the Virginia Venom (Alexandria).
Home sweet home: Undecided, but James is hoping for a location in the East End. "Varina (High School) would be nice," she said.
When is kickoff? League play, postponed this fall because of the pandemic, likely will commence in March. The team will practice through the winter.
Early indicator: In November 2019, the River City Sting traveled to Nashville, Tenn., where it played a scoreless, tie exhibition game against the established Tri-Cities Thunder.
Getting the word out: The Sting advertises on Facebook, Instagram and through its own website, rivercitysting.com. Also, Sting members have set up booths at various local events, such as Virginia Commonwealth University women's basketball games.
James Gang: The idea for the team was hatched by James, a former Henrico High School athlete who played club basketball at the University of Virginia.
James is among those who played tackle football previously for the Richmond Black Widows team established in 2015. The Black Widows are separate from the River City Sting and compete in a different conference, the Women's Football Alliance.
The Sam Man: Head coach Saroun Sam, a man, comes to the Sting with solid credentials. Previously, he helped coach the Richmond Black Widows to three championships.
No age limits: "We've got 'em 16 to 47," said James. "Some tough women out here."
QB: No. 1 on the Sting depth chart is Bailey Lien, a former Hanover High School and Christopher Newport University athlete. Lien set several records as the field hockey goalkeeper at CNU, where she also played lacrosse.
A senior associate in process management at Capital One, Lien grew up watching football on television with her father. "Who wouldn't want to be the quarterback?" she said of her chosen position.
Don't be shy: The team's roster is incomplete. James has room for more than 30 women looking to veer off the beaten path and follow the signpost pointing to "The Wild Side."