Personality: Vicki L. Neilson
Spotlight on founder and executive director of The Giving Heart
11/19/2020, 6 p.m.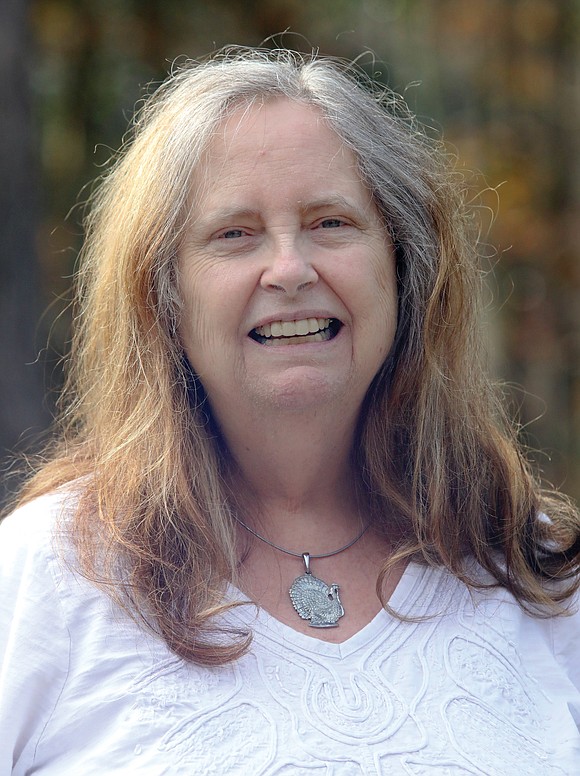 How do you throw a Thanksgiving feast for 3,000 people in the midst of a pandemic?
Do it as a carry-out event, says Vicki L. Neilson, founder and leader of The Giving Heart that is a week away from staging the 16th edition of its Community Thanksgiving Feast in Downtown. The event ranks as the largest free holiday meal event in the Richmond region.
"I thought about canceling. I went back and forth on it. But then we talked about it, and we decided it was still needed and we saw how it could be done," says the 62-year-old Washington, D.C., native known for her warm smile and caring attitude.
Ms. Neilson and her team are improvising, adapting and overcoming the challenges that COVID-19 has presented to continue the tradition of providing Thanksgiving dinner with all the trimmings to all comers, and, for those in need, donations of coats, clothing, toiletries and other items.
The Greater Richmond Convention Center's Exhibition Hall at 5th and Marshall streets will still be the home base for the event that is scheduled to run from 11 a.m. to 2 p.m. Thursday, Nov. 26.
But forget the sit-down meal that has been the signature draw of the event, she says. That had to be jettisoned.
"Everything will be takeout" to comply with state and federal guidelines, she says.
Those who come to pick up one or more dinners will have to wear a mask, she says, and remain socially distanced. "We want everyone to be safe," including the volunteers, she says.
As Ms. Neilson envisions, guests will walk through the convention center at 6-foot intervals and pick up meals, and have a choice of some donated items, as well.
If the convention center ends up not allowing entry, she says, volunteers will hand out meals at the door, but the show will go on, she says.
For those who register online at TheGivingHeart.org, there also will be curbside service for the first time.
Whatever comes, "we're going to make it happen," she says.
The sea change has had one impact — fewer volunteers are needed to prepare and serve, Ms. Neilson says. "We usually have about 800 people involved," she notes, but this year only 70 to 80 will be taking part.
Ms. Neilson launched The Giving Heart in 2003 to serve as a bridge to help various non-profits meet common needs.
While the group also delivers Valentine's gift bags to seniors, Thanksgiving came into focus when a group of restaurant chefs who previously provided a free holiday meal in Richmond decided to end their operation.
Ms. Neilson, who is unpaid like everyone else involved, saw this as an opportunity for her new organization and took on the challenge. After a year of planning, The Giving Heart offered its first Thanksgiving feast in 2005 and has never looked back.
She says the feast is an "opportunity to recognize and serve all in our community who, for various reasons, are unable to be with family. We bring people together from all walks of life so no one has to feel left out.
"We put a special emphasis on seniors, working families, homeless individuals, military members, but all are welcome," she says.
She says she is always inspired by the volunteers who participate.
She cites a well-known quote of the late Muhammad Ali to explain why she started The Giving Heart: "Service to others is the rent you pay for your room here on Earth."
Meet a woman with a giving heart and this week's Personality, Vicki L. Neilson:
No. 1 volunteer position: Founder and executive director, The Giving Heart.
Date and place of birth: Jan. 24 in Washington, D.C. Current residence: Rockville.
Education: Spotsylvania Senior High School and Virginia Commonwealth University.
Family: Husband, Jim; and sons, Matthew and Kevin.
The Giving Heart is: A wonderful nonprofit organization that exists solely because of volunteers and donors.
When and why The Giving Heart was founded: We were founded in 2003 as a way to help bridge various nonprofits together to share in common needs. We evolved later in 2005 into our two existing programs — The Community Thanksgiving Feast and Secret Senior Valentine Bags. Mission of organization: The Giving Heart is a 501(c)3 nonprofit organization that is dedicated to providing food, fellowship and essential items to those in the Greater Richmond Metropolitan Area.
When and where first Thanksgiving served: Our first meal was in November 2005. This is our 16th year! Originally we served on the smaller, banquet side of the Greater Richmond Convention Center and later moved to our current location in the Exhibition Hall to further accommodate our guests.
What inspired this annual feast for Richmonders: We wanted to take the opportunity to recognize all in our community who, for various reasons, were unable to be with others that day. We've found so many examples of how a 20-minute conversation can be so uplifting to many of our guests — and even to volunteers.
How many volunteers help make this day successful: Depending on the year — this one is certainly different! — we average about 800 volunteers including food prep days, Wednesday setup needs and actual Thanksgiving Day needs.
Planning begins: Usually in July, with reaching out to donors and creating our core committee members. Volunteers are solicited in October or when positions get canceled and need to be refilled until Thanksgiving.
Who is invited to Thanksgiving Feast: Everyone! Special emphasis is placed on inviting our seniors, working families, our homeless friends, members of the military and those who would otherwise be alone on Thanksgiving.
Our Thanksgiving Feast usually is: Festive! Many volun- teers sign up to be table hosts and decorate their individual tables. Inviting! We love to spend time talking with our guests. Inclusive! All are welcome to the table. Free! What is on this year's menu: A traditional Thanksgiving meal will be served with turkey, ham, mashed potatoes, gravy, stuffing, green beans, cranberry sauce, dessert and beverages. How many turkeys are served: This year, we will have about 250 turkeys and 240 hams.
Sweet potato or pumpkin pie: LOL! I am always told that I order the wrong quantity, so apparently sweet potato pie is the more popular choice. But we'll still have pumpkin pie and cakes, danish and cookies from donors such as Williams Bakery and Ukrops Homestyle Foods.
Who cooks: We have approximately eight to 10 volunteers for two shifts daily from Monday through Wednesday of Thanksgiving week. We'll also have about 10 people to help with final food prep on Thanksgiving morning, plus 64 people plating the food.
When and where prepping begins: Friday, Nov. 20, starts our load-in of the turkey and hams. Hopefully, they finish thawing by Monday. The actual preparations start 9 a.m. Monday of Thanksgiving week.
Want to participate?
What: The Giving Heart's 16th Annual Community Thanksgiving Feast
When: 11 a.m. to 2 p.m. Thursday, Nov. 26
Where: Greater Richmond Convention Center, 5th and Marshall streets
Details: Food and essential items available for carryout this year because of COVID-19; curbside pickup at 11:30 a.m., 12:15 p.m. and 1 p.m. with advance reservations at http://www.thegiv...">www.thegivinghear...
Parking: Free parking at 3rd and Marshall streets deck, or ride with GRTC or the CareVan.
Volunteers: Those interested in helping with food, money and essential item donations, or to help in person, go to http://www.thegiv...">www.thegivinghear... or call (804) 749-4726 between 9 a.m. and 10 p.m. daily.
How many plates typically are served: Usually, we prepare enough for about 2,400, but this year we'll increase according to the donations received.
How COVID19 is affecting this year's event: Sadly, we have to eliminate the sit-down aspect of our event. But we're happy that we can change the dynamics and offer to-go meals — people will enter the Convention Center to take food and other items — and curbside pickup. Meals can be ordered online now.
Lessons learned during pandemic: 1. There is so much need for food and we're so thankful for those who have donated food and monetary gifts to allow us to try and meet some of that increased need. 2. That volunteers are willing to come out of their comfort zone with the pandemic to give of themselves for others. 3. That despite the last-minute decision to move forward, we have had so many people who have encouraged what is happening for our community.
The Giving Heart partners with: In addition to all of the various food and monetary donors, we work with the IVNA to administer flu shots and temperature checks. Additionally, the Richmond Ambulance Authority will be present for any medical needs. In "normal times", we would also have a resource area for others to offer brochures, cut hair, provide entertainment and even create crafts to take home.
How I start the day: Excitedly! I love checking emails and talking with those who call. I think many are pleasantly surprised that it's a real person talking or that emails are responded to quickly.
Three words that best describe me: Passionate, caring and determined.
Best late-night snack: I would normally say chocolate, but my body says not now. So it's either caramel hard candies or, because I'm usually awake until 4 a.m., a KIND protein bar.
How I unwind: Before COVID- 19, heading off to Las Vegas to play Video Keno. Now it's more like Candy Crush online. Something I love to do that most people would never imagine: Using a cane prevents it now, but I would say I love to ballroom dance. I used to teach, along with Mary Murphy (So You Think You Can Dance).
Lesson learned in life — do everything while you can.
Quote I am most inspired by: Two come to mind: "Service to others is the rent you pay for your room here on Earth." — Muhammad Ali; and "We're all homeless ... just working our way toward home." — Denver Moore
At the top of my "to-do" list: Retire to Las Vegas. (But my husband has something to say about that one!)
The best thing my parents ever taught me: The importance of family — and if they aren't there, invite your neighbors.
Person who influenced me the most: All of the wonderful volunteers who come back every year and, more importantly, the Youth Ambassadors who sometimes volunteer because they have to and return on their own years later.
What I'm reading now: "The Woman in Our House" by Andrew Hart. After Thanksgiving, the book that became a fantastic movie, "Same Kind of Different as Me" by Denver Moore, Lynn Vincent and Ron Hall.
Next goal: To become more proficient at making our website look really professional.