Hall of Famer Deion Sanders has new title: Coach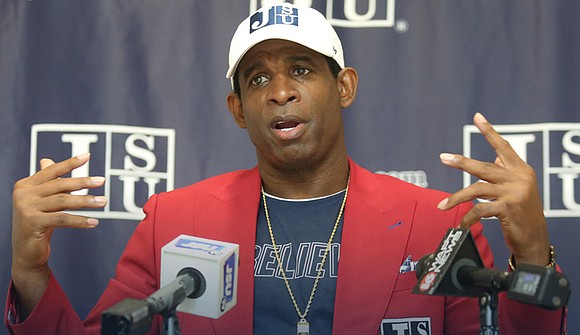 When Jackson State University begins its football season this spring, the Tigers will have a very famous coach.
On Monday, Deion Sanders, aka "Prime Time," agreed to coach the HBCU Southwestern Athletic Conference school in Mississippi.
Sanders is currently the offensive coordinator at Trinity Christian School in Cedar Hill, Texas.
A native of Fort Myers, Fla., Sanders was an eight- time NFL Pro Bowl selection as a defensive back and kick returner. He had 53 career interceptions, including 10 for touchdowns.
Sanders also played Major League Baseball as a left fielder from 1989 to 2001.
At Jackson State, Sanders replaces John Henshaw, who went 4-8 overall and 3-4 in the SWAC a year ago.
Sanders is a member of both the NFL and College Football halls of fame. He played collegiately at Florida State University, where he was a football and track All-American.
Jackson State has some hall of famers of its own. Tigers alumni in the NFL Hall of Fame are Walter Payton, Lem Barney, Robert Brazile and Jackie Slater. It's been tough going of late, however. Jackson State hasn't enjoyed a winning season
since 2013.
Because of the coronavirus pandemic, SWAC has postponed football from this fall to spring 2021.