"Wanton murder"
Breonna Taylor's family attorney decries the decision of a Kentucky grand jury to absolve 2 white police offers in her shooting death, while charging a third with endangering Ms. Taylor's neighbors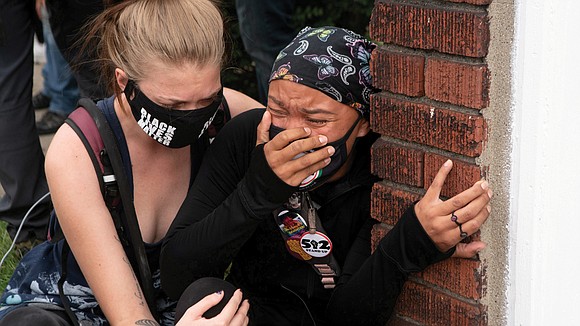 LOUISVILLE, Ky. - Two white policemen who fired shots inside the apartment of Breonna Taylor, a Black emergency medical technician, will not be prosecuted for her death because their use of force was justified, while a third police officer was charged with endangering her neighbors, Kentucky's attorney general announced on Wednesday.
Kentucky Attorney General Daniel Cameron announced the Louisville grand jury's decision at a news conference, as people broke into tears and protesters against racial injustice and police brutality assembled in the streets.
Protests were largely peaceful. But about a dozen people were arrested in one confrontation between hundreds of demonstrators and dozens of heavily armed law enforcement officers in riot gear just outside downtown Louisville.
Former Louisville Metro Police Detective Brett Hankison was indicted on three counts of wanton endangerment in the first degree, an offense that ranks at the lowest level of felony crime in Kentucky and carries a maximum sentence of up to five years in prison.
Benjamin Crump, a civil rights lawyer representing the Taylor family, said it was "outrageous and offensive" that none of the officers would be criminally charged with causing Ms. Taylor's death.
The FBI is still investigating potential violations of federal law in the case.
Ms. Taylor, 26, was killed in front of her boyfriend shortly past midnight on March 13 inside her Louisville apartment after Detective Hankison and his two colleagues forced their way into her home with a search warrant.
The two other officers, Sgt. Jonathan Mattingly and Detective Myles Cosgrove, were not charged because they were justified under Kentucky law in returning fire after Mr. Taylor's boyfriend, Kenneth Walker, shot at them, Mr. Cameron said. Sgt. Mattingly was wounded in the thigh, Mr. Cameron said.
"There is no doubt that this is a gut-wrenching, emotional case," Mr. Cameron said at the news conference.
Mr. Cameron, a Republican and the state's first Black attorney general, is a protégé of U.S. Senate Majority Leader Mitch McConnell of Kentucky who has been tagged by some as the senator's heir apparent. His was also one of 20 names on President Trump's list to fill a future U.S. Supreme Court vacancy.
Gov. Andy Beshear, a Democrat, called on Mr. Cameron to release all evidence in the case so that the public could better understand the outcome of the investigation.
"Everyone can and should be informed," Gov. Beshear said. "Those feeling frustration, hurt, they deserve to know more." Detective Hankison fired his weapon 10 times. Some of the bullets
traveled through Ms. Taylor's apartment into adjacent Apartment No. 3, where a man, a pregnant woman and a child were at home.
There was "no conclusive" evidence that any of Detective Hankison's bullets struck Ms. Taylor, Mr. Cameron said. The grand jury indicted him for wantonly placing the neighbors in danger, Mr. Cameron said.
Protest organizers expressed frustration at the outcome, with some people weeping in the street. Hundreds of demonstrators wound their way out of downtown Louisville's Jefferson Square Park, dubbed by protesters as "Injustice Square," and marched through the streets chanting, "Out of the homes, into the streets!"
In a suburban area at the edge of downtown, protesters threw water bottles at police, who responded by firing pepper balls into the crowd. Pushing and shoving ensued between the two sides, and some demonstrators broke windows of businesses in the area.
"If Brett Hankison's behavior was wanton endangerment to people in neighboring apartments, then it should have been wanton endangerment in Breonna Taylor's apartment, too," Mr. Crump said. "In fact, it should have been ruled wanton murder!"