101st birthday wishes
4/22/2021, 6 p.m.
Marjorie Wilson Saunders, who touched the lives of hundreds of students during her teaching career at Richmond's Maggie L. Walker and George Wythe high schools, is serenaded with "Happy Birthday" by family, including her daughter, Marjory, friends and former students who helped celebrate her 101st birthday on April 15.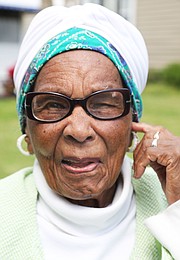 The 1947 Virginia State University graduate was surprised first by a caravan of well-wishers who rolled by her North Side home in their cars with horns honking. Then they parked and gathered to sing and reminisce about their high school days with a teacher they described as "very loving and caring." Mrs. Saunders started as a secretary at Walker in 1956. She left to earn a master's degree in business education from New York University. She returned to teach at Walker from 1958 to 1970 and at George Wythe from 1970 until her retirement in 1985. She was overwhelmed by the outpouring of love on her special day.