Super performances expected from Devin White and Tyrann Mathieu in Super Bowl LV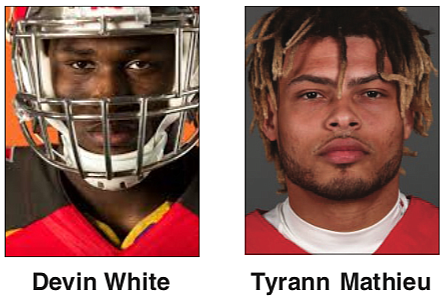 If Tom Brady and Patrick Mahomes are the rocket launchers for Super Bowl LV, then Devin White and Tyrann Mathieu represent the anti-aircraft.
Many anticipate an offensive explosion when Tampa Bay's Brady and Kansas City's Mahomes match powerful right arms Sunday, Feb. 7, in the Super Sunday game in Tampa.
Buccaneers linebacker White and Chiefs safety Mathieu hope to shoot down such notions.
The defensive stalwarts both hail from Louisiana State University and have become cornerstones in their teams' drive to pro football's ultimate showdown, the Super Bowl.
White was a non-stop jolt of energy in the Buccaneers' playoff wins over the New Orleans Saints and the Green Bay Packers. No. 45 in pewter gear had 15 tackles plus a fumble recovery to thwart the Packers' likely NFL Player of the Year quarterback Aaron Rodgers.
The previous week, White was credited with 11 tackles and a pivotal interception off New Orleans quarterback Drew Brees.
"Cap'n Crunch," as White is known, posted 140 tackles during the regular season with nine quarterback sacks. He's also quick enough to cover fleet receivers.
The former first round draft choice made the NFL's All-Rookie team in 2019 and the second-team All-Pro team this season.
While White won the Dick Butkus Award as the nation's best linebacker at LSU, Mathieu captured the Chuck Bednarik Award as the land's premier defensive player.
A Heisman finalist at LSU, Mathieu, the "Honey Badger," made first-team All-Pro this season for the Chiefs. He previously was All-Pro in 2013 and 2015 with the Arizona Cardinals and 2019 with Kansas City.
Mathieu had 62 tackles and six interceptions this go-round in the regular season, lifting his career totals to 467 tackles and 23 picks. Known as a big-play artist, Mathieu's interception of the Cleveland Browns' Baker Mayfield in the divisional playoff led to the Chiefs' 22-17 win over the Browns. He had 11 tackles in the wins over the Buffalo Bills and Cleveland in addition to patrolling the secondary like a hungry hawk.
White and Mathieu are difference makers capable of contending for MVP honors, perhaps stealing the spotlight from the handsome cover-boy quarterbacks.
The smart MVP money, however, is always on the quarterbacks.
In the previous 54 Super Bowls, quarterbacks have been MVP on 30 occasions, followed by seven running backs and seven wide receivers. The last defensive player to win MVP was Denver linebacker Von Miller in 2016.
Brady has been MVP on a record four occasions, followed by Joe Montana with three and Bart Starr and Terry Bradshaw with two apiece.
Mahomes is hoping to earn back-to-back MVPs for the first time since Starr did it for Green Bay in 1967 and 1968 and Pittsburgh's Bradshaw in 1979 and 1980. Brady has never won it in consecutive years.
The Chiefs are seeking to become the first back-to-back Super Bowl champion since the New England Patriots in February 2004 and February 2005.
Tampa's lone Super Bowl title came in January 2003 when the Buccaneers trounced the Oakland Raiders 48-21 in San Diego. Tampa was coached by Jon Gruden with Brad Johnson at quarterback and Warren Sapp a dominant defender.