Tom Brady, G.O.A.T. quarterback, takes Tampa Bay to champions' circle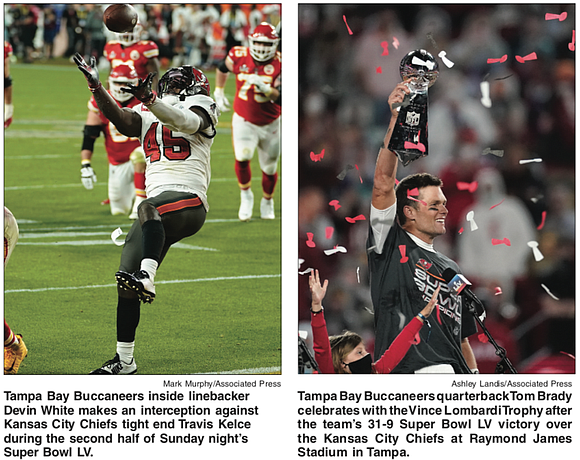 You can call them the Tampa Bay Buccaneers, or the "Tompa" Bay Bucs or "Brady's Bunch," or the golden oldies, but be sure to also call them Super Bowl LV champions.
A dream that would have been unimaginable last March has come true. With quarterback Tom Brady as the navigator, the Buccaneers have driven—uphill it seems all the way—to foot- ball's ultimate destination.
The Bucs left the 2020 Super Bowl champion Kansas City Chiefs without even a "what if?" in rolling to a look-at-me 31-9 victory Sunday night on the Bucs' home turf at Raymond James Stadium in Tampa.
"To have imagined this a year ago, I would have had to be smoking something illegal," Coach Bruce Arians said.
Any Bucs discussion starts with Brady, who came to Tampa in March 2020, following a dazzling career with the New England Patriots.
In thwarting the favored Kansas City Chiefs, Brady hit 21 of 29 passes for 201 yards and three touchdowns and was sacked just once. His passing rating of 125.8 was a charts buster, making him the clear MVP winner.
It was Brady's seventh Super Bowl victory — his first six were with the Patriots — and his record fifth MVP award.
Age doesn't matter: At 43, Brady is the oldest Super Bowl winning quarterback in the sports annals. He breaks the former old-age record of 41 — that he set himself in 2018.
The only other non-kicker to play in a Super Bowl at age 40-plus was receiver Jerry Rice in 2003 with Oakland.
Coach Arians, too, deserves graybeard status on the sidelines. The 68-year-old former Virginia Tech quarterback becomes the oldest coach to win the Super Bowl.
No stranger to football's brightest stage, "Gronk," who was lured out of retirement, had six receptions for 67 yards and two touchdowns that he punctuated with perhaps the two hardest spikes in NFL lore.
Human stop sign: Coordinator Todd Bowles, one of three African-American coordinators for the Bucs, whipped up a scheme that kept Chiefs quarterback Patrick Mahomes on the jittery run most of the night.
Chased relentlessly, Mahomes was intercepted twice, sacked three times and limited to a measly 52.3 quarterback rating.
As usual, Tampa Bay linebacker Devin White was the ring- master. The second-year star from Louisiana State University had 12 tackles — two for losses — and one of the team's two interceptions. Antoine Winfield had the other.
Horsing around: When White isn't wearing shoulder pads, he is likely to be found at the nearby horse stables, grooming and riding his beloved horse.
Considering where the Bucs are now and where they came from, it's fitting to note the name of White's horse — "Dream."