Sandra K. Martin, assistant superintendent of the James River Juvenile Detention Center, dies at 63
1/21/2021, 6 p.m.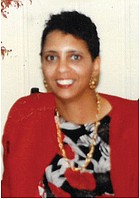 Sandra Kaye Martin, who spent nearly 35 years helping troubled youths in the Richmond region find the pathway to success, has died.
Ms. Martin, 63, succumbed to illness on Sunday, Jan. 10, 2021.
Her death is being felt particularly at the regional James River Juvenile Detention Center in Goochland County where she served as assistant superintendent for eight years.
Ms. Martin was known for her efforts to create programs to benefit the young people who arrived at the center, said Superintendent Michael Martin, no relation.
Her initiatives included a program called "Baby Think It Over" to educate youths at the center "on the responsibilities of parent- ing and child care," Mr. Martin said. She also spearheaded an arts program to help "residents explore their talents through music art and theater," he said.
"She also was instrumental in developing the graduation ceremony for kids graduating from high school and the GED program while at the center," he said. "This allowed them to walk across the stage in cap and gown and receive their diplomas and certificates in front of parents, staff and caregivers.
"She was a wonderful person, admired and respected by all," he continued. "She treated everyone with the highest degree of dignity and respect."
Ms. Martin, who planned to retire this year, previously spent 25 years with the City of Richmond, rising to deputy director of the city's Department of Justice Services, where she oversaw community programs for youths and the detention center.
A graduate of George Washington Carver High School in Chesterfield County, Ms. Martin began her youth-focused career after graduating from Virginia State University in 1979.
A native of Martinsville, she first returned to that city to teach school and later moved to the Richmond area to begin working for the city in programs involving youths and children.
Ms. Martin was a member of Delta Sigma Theta Sorority for 41 years and was an active member of the Chesterfield Alumnae Chapter.
A service honoring her life was held Saturday, Jan. 16, at First Baptist Church-Centralia in Chesterfield County, where she had served as an usher and on the Ladies Auxiliary. Another service was held Sunday, Jan. 17, at the Wright Funeral Service Chapel in Martinsville.
Survivors include her mother, Constance C. Martin of Martinsville.
The family requests that, in lieu of flowers, memorial donations be made to the Chesterfield Alumnae Chapter of Delta Sigma Theta Sorority, P.O. Box 2554, Chesterfield, Va. 23832.