Footwear and talent carry Atlee's Jada Foreman to victories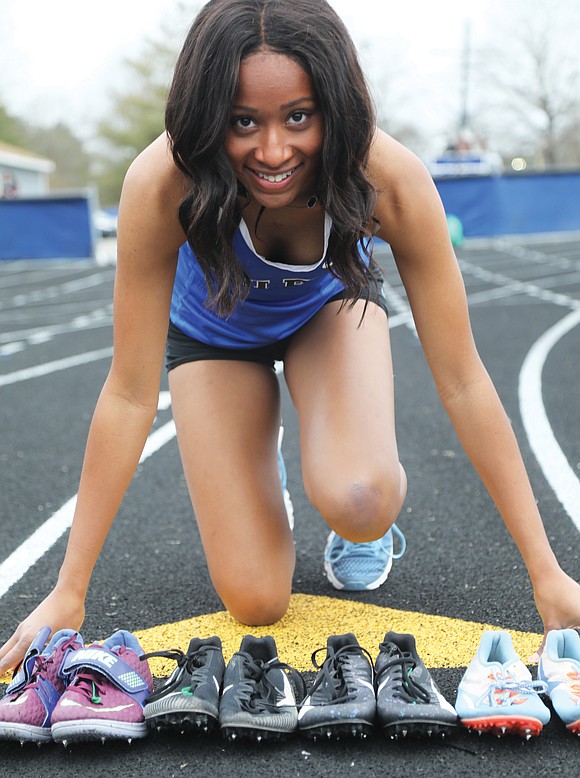 Atlee High School junior Jada Foreman is easily spotted at track and field meets. She's likely the one carrying the most medals—and also the most shoes.
The versatile 17-year-old won five individual events and helped account for 66 points in leading the Raiders to the Region 5B title.
Her size 9 footwear differs with each event.
"I carry about five pair" of shoes, she said with a friendly laugh. "Tennis shoes, running spikes, long jump spikes, high jump spikes and then another pair, just in case something happens.
"My bag is very heavy."
It becomes a bit heavier after her general haul of medals, ribbons and trophies.
The slender 5-foot-9 daughter of Michael and Michelle Foreman of Mechanicsville doesn't discriminate in regard to her choice of events. She tries them all.
"Jada is an outstanding young lady," said Atlee Coach Neil Mathews. "What really caught us off guard at regionals was her second in the shot.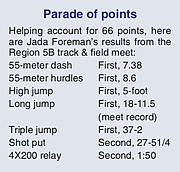 "We knew how explosive she was in the sprints and jumps, but the shot was a surprise. She hadn't practiced it much. She said, 'I'll do it if it helps the team.' "
Foreman was the 2020 state indoor champion in the long jump with a leap of 19-23⁄4. Also as a sophomore at the states, she was fourth in the high jump and fourth in the high hurdles. Her ability to change events—and change shoes—sets her apart from the one- or two-event specialists.
Coach Mathews goes so far as to group Foreman with two of the greatest track and field performers in Hanover County annals—Courtney Neal from Atlee and Rachel Butler from the former Lee-Davis High School.
And now get this: The busy Foreman also is trying to squeeze in another sport- ing passion—volleyball—with all the track regimen.
She's a springy middle hitter on the Raiders' volleyball squad, earning All-Region honors two falls ago. The team is practicing now for the spring season, which was postponed from fall due to the pandemic.
"I go to track practice," Foreman said. "Then I go to volleyball practice."
There's little time for her to catch her breath. Once indoor track ends, the outdoor season will commence.
Foreman's talent and passion for track is a family affair.
Her father, Michael, was among the first track standouts when Atlee High opened in 1991. Her mother, Michelle (maiden name, Brown) sparkled in spikes at L.C. Bird High School in Chesterfield.
Michael went on to play football at Hampton University. Michelle is an alumnus of Norfolk State University.
Foreman's brother Cameron was a track and football award winner for Atlee High and is now a defensive back for Norfolk State University.
An event Atlee High has long excelled in is the pole vault. At the regionals, Raiders girls took first, second, fourth and fifth in the event.
There's always room for one more. Foreman has the kind of speed and strength needed for the pole vault and has taken notice.
"I always felt like I wanted to give it a try," she said.
Anyone know where you can get a good deal on vaulting shoes?