Hampton University out in Big South quarterfinals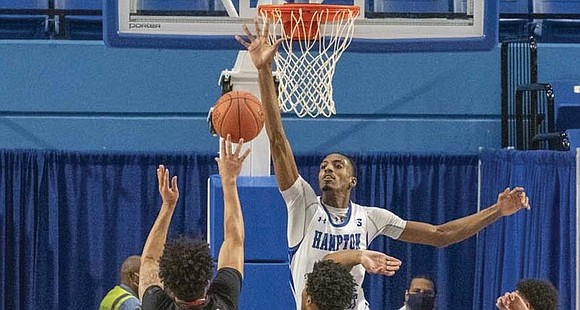 Hampton University's Pirates accumulated a treasure chest of individual statistics this season, while often falling short on the scoreboard.
Coach Buck Joyner's squad finished 11-14 overall (9-10 in the conference) after losing 67-52 at Radford University in Monday night's quarterfinals of the Big South Tournament.
The individual statistical numbers shined brighter.
HU's Davion Warren, a senior from Buffalo, N.Y., led the conference in scoring (average 21.6 points per game) and steals (2.0). Warren scored 22 points against Radford in the season finale.
Dajour Dickens, a 7-foot sophomore from Hampton, led the Big South in blocked shots with 3.5 per contest. A transfer from Old Dominion University, Dickens was second nationally in that category.
Russell "Deuce" Dean, a sophomore from Columbia, S.C., was second in assists (5.9 per game) and first in assists to turnover ratio (2.0).
Chris Shelton, a sophomore from Louisa, was No. 1 in 3-point accuracy at .485 (65 for 134).
Elijah Seward, a 6-foot freshman from Richmond's 2020 State 2A champion John Marshall High School, played 89 minutes on the season, averaging 1.3 points and 1.2 rebounds.