NCAA: GOING TO THE BIG DANCE: NSU wins MEAC title, heads to NCAA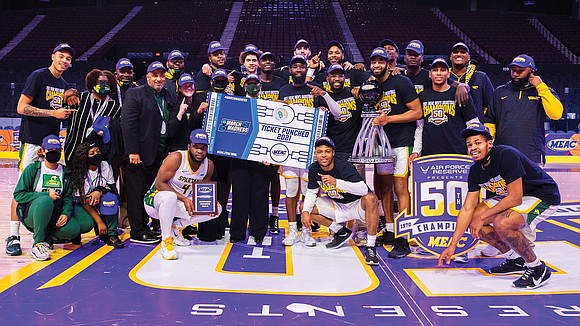 If Norfolk State University was snubbed at the ballot box, it more than got even on the court.
Denied regular season accolades, the revenge-minded Spartans defeated Morgan State University 71-63 in the MEAC Tournament final at the Norfolk Scope Arena.
It is NSU's first MEAC crown since 2012 and sends the green and gold to the NCAA's Big Dance.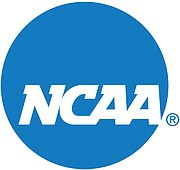 The Spartans will face Sun Belt Conference championAppalachianStateUniversityofBoone, N.C., at 8:40 p.m. Thursday in Bloomington, Ind., in a NCAA First Four matchup. If victorious, NSU would become the 16th seed in the Western bracket and advance to face overall No. 1 seed Gonzaga University on Saturday.
Back in Norfolk, the MEAC regular season individual awards were voted on by the conference's head coaches and sports information directors.
NSU junior Joe Bryant, a third-team All- MEAC pick, was named tournament MVP. Coach Robert Jones, passed over for regular season Coach of the Year, won Tournament Coach of the Year.
Also, there were no Spartans on the MEAC All-Defensive Team or All-Rookie Team based on regular season voting.
Devante Carter, a second team All-MEAC selection, joined Bryant on the All-Tournament team.
Many in the NSU camp felt Carter, a senior from Newport News, was more deserving of regular season player of the year than second team pick.
From nearby Lake Taylor High School in Norfolk, Bryant had 17 points in the game against Morgan State after torching the nets for 30 points in a tournament quarterfinal win over North Carolina Central University.
Carter had 12 points, seven rebounds, five assists, three steals and two blocked shots to foil the Morgan State Bears. The ever-present Carter logged 37 of the game's 40 minutes.
NSU did a solid job defending Morgan State standout De'Torrion Ware, who had averaged 32 points during the quarterfinal and semifinal games.
Against the tight Spartans' defense, Ware scored 16 points but hit just five of 15 shots from the field, including one of eight from beyond the arc. He had four turnovers.