NSU wins, only to be crushed by NCAA's Goliath, Gonzaga U.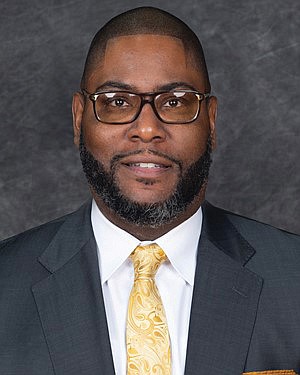 Norfolk State University was the only one of five Virginia schools to record a victory at the NCAA Basketball Tournament.
Carrying the state banner, the Spartans defeated Appalachian State 54-53 in a First Four match March 18 in Bloomington, Ind.
That set up a David versus Goliath showdown last Saturday between NSU and Gonzaga, and Goliath more than lived up to its national headlines and ranking.
With the world watching on TV, the No. 1 seeded Gonzaga routed the No. 16 seed NSU Spartans 98-55. Gonzaga led 43-23 at halftime.
This was to be expected. Gonzaga entered the game as a 34-point favorite, but NSU had won its previous seven games and was fired up for the occasion.
NSU did have its moments in the early going. The Spartans led 9-6 early on and 11-10 with 12:41 left in the first half.
"I think we let the moment get away from us a little bit," NSU Coach Robert Jones told the media. "We put the pressure on ourselves instead of it being on them because, honestly, there was no pressure on us, but we played like there was." Devante Carter and Kyonze Chavis had 12 points each, but the Spartans shot just 31 percent (19 of 62) from the field and were out rebounded 45-22.
Gonzaga hit 14 of 27 3-pointers, with Corey Kispert draining six of nine.
Four of the five NSU starters — Carter, Chavis, J.J. Matthews and Kashaun Hicks — are seniors, but would have the option of returning next season.
NSU's Jalen Hawkins, a 6-foot-2 junior from Bronx, N.Y., had 24 points in the win over Appalachian State and added eight points against Gonzaga.
Junior Joe Bryant, MVP of the MEAC tournament, will be counted on heavily in the upcoming 2021-22 season.
NSU now has finished 17-8 overall under Coach Jones. The Spartans were regular season co-champs in MEAC North and won the MEAC Tournament for the first time since 2012.