Lela Saberna Morris, longtime RPS personnel specialist, succumbs at 97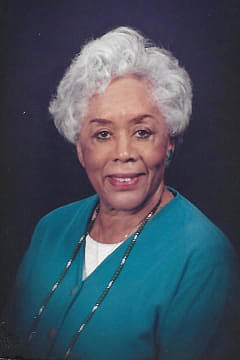 Lela Saberna Morris spent more than 40 years as a teacher and personnel specialist with Richmond Public Schools, but her road to a career in education was harder than most.
As a teenager before World War II, Mrs. Morris commuted 20 miles daily on a bus to get her high school education when Fauquier County refused to offer a secondary program to African-Americans, said her son, Alvin S. Morris.
Mrs. Morris embraced the challenge after her mother, Jannie Strother Stuart, organized a community bus service to carry her daughter and other Black teenagers to the only available high school located in Manassas in Prince William County, Mr. Morris said.
Mrs. Morris would go on to earn her undergraduate degree in 1946 from Virginia State College, now university. And after marrying in 1947, Mrs. Morris began her career with RPS teaching business and English classes.
"She was a strong-willed woman who served as a beacon of strength," her son said. As the result of her own experience, "she encouraged me and my sister to carry on despite life's adversities."
Mrs. Morris' focus on overcoming barriers to achieve a goal and her service to RPS is being remembered following her death Tuesday, March 16, 2021. She was 97.
Family and friends celebrated her life Tuesday at Scott's Funeral Home Chapel. She was buried in Forest Lawn Cemetery.
Mrs. Morris joined the RPS faculty around 1948 and initially taught at the former Randolph Junior High School. She was tapped to lead the business department at John F. Kennedy High School, which opened in 1968. The building has since been renamed Armstrong High School.
After earning her master's degree from Montclair State University in New Jersey, she was promoted to assistant principal of Thompson Middle School and then to supervisor of RPS personnel.
Mrs. Morris retired in 1991 as assistant director of human resources.
"She hired more than 500 teachers for the school system," her son said.
Mrs. Morris maintained a busy schedule outside of school. In the 1970s, she served two years as president of the National Epicureans and was active in the social group's Richmond chapter. She also was active in a local pinochle club and the Kiwanis Club of Richmond and was a member of Delta Sigma Theta Sorority.
Mrs. Morris also was a member of Ebenezer Baptist Church in Jackson Ward. However, for a period, she switched her church membership to All Souls Presbyterian Church in North Side, where she served as an elder and taught Sunday School. She reunited with Ebenezer in 2009, her son said.
He also noted his mother loved cooking, baking, entertaining and traveling. During her life, he said, she visited more than 30 countries and went on numerous cruises.
Mrs. Morris was predeceased by her husband, Alvin W. Morris.
In addition to her son, Mrs. Morris is survived by her daughter, Lela A. Morris.