'March Madness' turns to 'Spring Sadness' for VCU Rams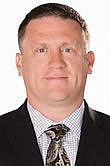 Virginia Commonwealth University traveled to the NCAA Big Dance hoping to kick up its heels and stay for a while.
Instead, the Rams slipped and fell before the music ever started, and headed straight home.
March Madness became Spring Sadness.
Multiple positive COVID-19 tests among the VCU contingent denied the Rams a chance to play Oregon in what was supposed to be a first round matchup last Saturday in Indianapolis.
No. 10 seed VCU versus No. 7 Oregon in the West Region was ruled a "No contest," with the Oregon Ducks advancing essentially by forfeit. Oregon had been a 5.5-point favorite.
It's anyone's guess where the Rams picked up the coronavirus. Roger Ayers, who officiated at the VCU-St. Bonaventure Atlantic 10 Conference championship game March 14 in Dayton, Ohio, tested positive for COVID-19 this past week.
"I would not speculate in any way, shape or form of who had it," said VCU Athletic Director Ed McLaughlin. "It certainly wasn't because of bad behavior on our side whatsoever. So it's brutal. That's the only way I can describe it."
Rams Coach Mike Rhoades called the abrupt ending "devastating" and "a heartbreaking moment in (players') young lives."
The NCAA's decision to forego the game because of health risks was handed down about three hours prior to tipoff following NCAA officials' consultation with the Marion County Public Health Department in Indiana. There were two positive tests on Friday and there was fear the illness was "spreading." The
team didn't specify if the positive tests came from players or other team personnel.
Looking back: This was a smiley-face story with a tearful finish. Despite the dismal ending, the Rams went 19-7 after being picked to finish ninth in the Atlantic 10.
Led by A-10 Player of the Year Nah'Shon "Bones" Hyland, the Rams were second in the regular season and advanced to the A-10 Tournament final before losing to St. Bonaventure in Dayton.
The Rams continued to prosper despite losing two key guards off the bench during the final month. Tre Clark dropped out of school and KeShawn Curry took a leave of absence to attend to personal matters. This placed an added burden on freshman point guard Ace Baldwin and he did not back down from the challenge, playing nearly 40 minutes per game.
Looking ahead: Under Coach Rhoades, the Rams should be loaded in 2021-22. The team has just two seniors, Corey Douglas (4.5 points per game) and Levi Stockard (6.5 points per game). Most of the firepower returns.
Worries: Hyland blossomed into a powerful force as a sophomore and NBA scouts took notice. His name has popped up in several NBA mock draft predictions, likely as a second
round selection. He also would be a candidate for the Gatorade League.
Reinforcements: Joining the Rams next season will be two highly touted, three-star freshmen, 6-foot-9 Jalen DeLoach from St. Louis and 6-foot-5 Nick Kern from Lilburn, Ga.
Caribbean calling: The Rams will be tested early next season in the Battle 4 Atlantis at Paradise Island in The Bahamas, Nov. 24 through 26.
Other entries are Baylor, Arizona State, Auburn, Michigan State, Connecticut, Loyola-Chicago and Syracuse.
The aftermath: There have been hundreds of COVID-19 interruptions this hoops season, including several involving VCU.
The Rams missed out on a tournament in Charleston, S.C., and a trip to the University of Tennessee due to positive tests on at least one team involved.
Also, an A-10 game against Davidson was postponed due to positive tests. Another game with Fordham was canceled. The difference is there was time to reschedule and make amends for those setbacks. But the NCAA was final. The Rams never got on the dance floor.