Cityscape-Slices of life and scenes in Richmond
5/6/2021, 6 p.m.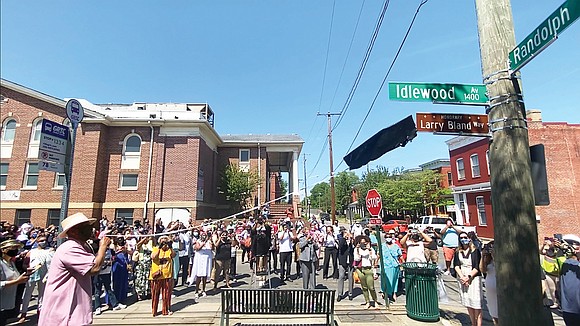 Fans of legendary Richmond gospel performer Larry Bland applaud and cheer Sunday afternoon as Russell Bennett, a longtime friend of Mr. Bland's, pulls away the covering from one of two new honorary street sign bearing Mr. Bland's name. Location: Idlewood Avenue and Randolph Street, in the block where Mr. Bland lived in the near West End. A second sign is at Idlewood Avenue and Harrison Street. Mr. Bland, a keyboardist and arranger, was best known as director of The Volunteer Choir that performed for 50 years. In 1971, he was a founder of the Virginia State University Gospel Chorale.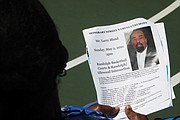 Mr. Bland succumbed to cancer in November at age 67. Fifth District City Councilwoman Stephanie A. Lynch spearheaded the street sign honor, with the unveiling ceremony held on what would have been Mr. Bland's 68th birthday. The ceremony was filled with tributes, reflections and a musical selection by friends and former choir members and a proclamation from Mayor Levar M. Stoney. When the street sign was unveiled, the crowd broke out in a rendition of "Happy Birthday" and other songs in Mr. Bland's honor.