VSU wins and loses in Pickle Classic in N.C.
Fred Jeter | 11/24/2021, 6 p.m.
Francis "BJ" Fitzgerald is lighting up the scoreboard for Virginia State University.
The junior guard from Danville has averaged 21 points for the 3-1 Trojans. He had a career high 31 points on Nov. 19 in VSU's victory at the University of Mount Olive in North Carolina in the Pickle Classic.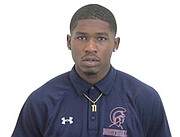 A transfer from Norfolk State University, Fitzgerald scored 21 points in the Trojans'105-90 loss Nov. 20 to Barton College during the tournament.
As a team, VSU has averaged 97 points per game — twice passing the 100-point mark — while allowing 87 per game.
Coach Lonnie Blow's squad now travels to play Indiana University of Pennsylvania at 4 p.m. Saturday, Nov. 27, and then University of Pittsburgh at Johnstown at 2 p.m. Sunday, Nov. 28.