Hampton beats Howard in the 'Battle for the Real HU'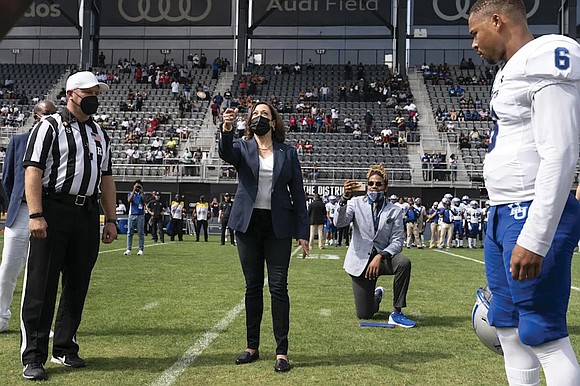 Even the moral support of Vice President Kamala Harris couldn't save her alma mater, Howard University, last Saturday in Washington, D.C.
With Vice President Harris presiding over the opening coin toss in which Howard called heads and won, the host Bison lost 48-32 to Hampton University in the first-ever football game played at Audi Field, home of Major League Soccer's D.C. United.
Before a crowd of 14,577 fans, the game, traditionally known as the "Battle for the Real HU," also served as the inaugural Truth & Service Classic.
Vice President Harris, who made a surprise appearance—at least to fans, is a 1986 graduate of the historically Black uni- versity in Washington.
Big South affiliate Hampton, now 2-1, has this week off before hosting Norfolk State University on Saturday, Oct. 2, at Armstrong Stadium.
MEAC member Howard, 0-3, travels to Moon Township, Penn., this Saturday, Sept. 25, for a noon kickoff against Robert Morris University.