VUU's Jada Byers turns on the speed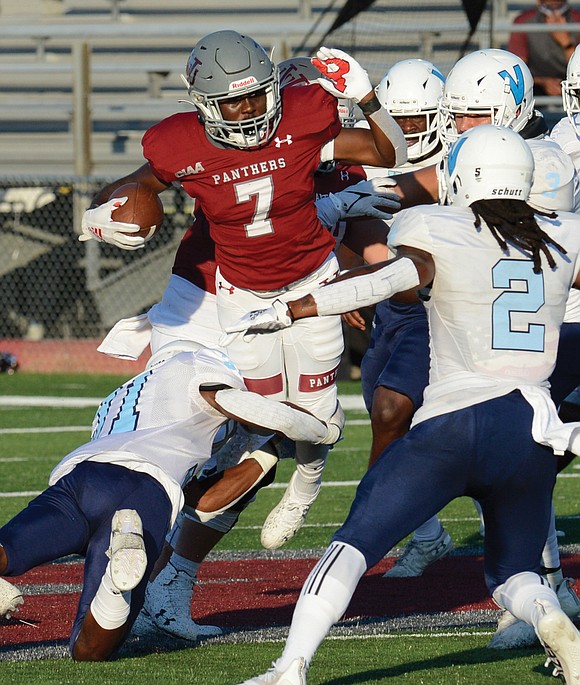 Expectations were sky high for Jada Byers and, so far, he has lived up to them.
The diminutive freshman running back has been an oh-my-gosh sensation for Virginia Union University football.
"Jada's a special talent," said Panthers Coach Alvin Parker, who compares the newcomer to VUU's all-time rusher, Andre Braxton.
"Like Andre, he turns it on when he gets the ball."
Byers rushed for 201 yards and two touchdowns — including a dazzling 52-yarder — in the Panthers' 49-7 win last Saturday over Virginia University of Lynchburg in the annual Willard Bailey Classic at Hovey Stadium.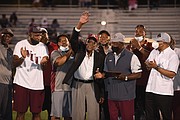 Byers was named MVP of the game and awarded a trophy from Coach Bailey during the postgame celebration.
Coach Parker let off the gas early against VUL. The Panthers led 35-0 at halftime and 42-0 after three quarters. Had Byers played the whole game, it's possible he would have challenged VUU's all-time, one game rushing total of 260 yards set by Judge Thomas against St. Paul's College in 1976.
Byers has made a smooth transition from high school to the college gridiron. On the season, Byers has 333 yards rushing—tops in the CIAA— including 107 yards in VUU's loss to national power Valdosta State University on Sept. 11.
VUU, now 1-2, is hoping for more of the same this Saturday, Sept. 25, when the Panthers travel to Charlotte, N.C., for a 1 p.m. kickoff against CIAArival Johnson C. Smith University.
Longtime opponent Johnson C. Smith is 0-2, with losses to Allen University of South Carolina, and Bluefield State College in West Virginia.
VUU has won the last four meetings with the Johnson C. Smith Golden Bulls and eight of the past nine. Smith is coached by native Richmonder Kermit Blount.
Byers hails from St. Joseph High School in Hammonton, N.J., where he set about every record there was to set. In four varsity seasons, Byers accounted for a mind-boggling 6,309 yards total offense, including 4,950 rushing. He scored 74 touchdowns carrying the ball and a total of 102, a New Jersey record. As a senior, he was the The Press of Atlantic City Player of the Year.
In one game, he scored a Jersey record of 10 touchdowns against Morris Catholic High School.
He also was a standout defensive back, accumulating 144 tackles.
"We recruited out of high school," Coach Parker said, "but my friends told us we didn't have a chance to get him."
Coach Parker's determination on the recruiting front worked. Although Byers first committed to Sacred Heart University in Connecticut, he had a change of heart and came to VUU on Lombardy Street.
Byers has breakaway speed and plenty of shake-and-bake, open-field moves, but what he lacks is size. He is listed at 5-foot-7 and 171 pounds.
That's where the comparison to Braxton — also about 5-foot-7 — comes in.
"They're similar in that they're shifty and make you miss," said Coach Parker, who played with Braxton in the late 1990s under Coach Bailey. "But I think Jada might be a little more dynamic in the passing game."
Byers has four receptions so far for VUU. At St. Joseph, he had 73 catches for 1,295 yards and 16 touchdowns.
Hammonton, N.J., is only about 30 miles from the gambling resort town of Atlantic City.
With that in mind, it's fitting Byers wears jersey No. 7.
So far, it has been lucky No. 7 for VUU.