Finding the silver lining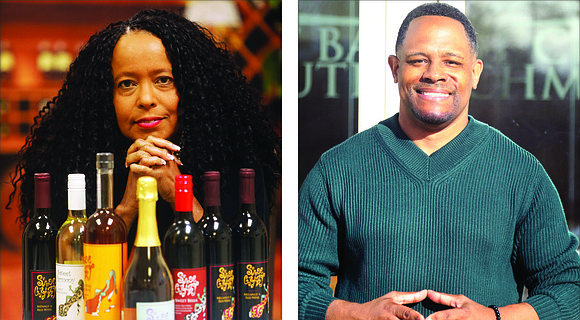 The COVID-19 pandemic has presented an unprecedented challenge to people and businesses during the last two years.
But some Richmond area residents have been able to find a silver lining during the crisis. The pandemic forced churches and merchants alike to think outside the box to serve their customers and congregations and attract wider audiences.
First Baptist Church of South Richmond has extended its reach. While the church has the slogan, "One Church, Two Locations, Two Ministries, One Heartbeat," it has broadened its reach well beyond its two campuses on Hull Street in the heart of Richmond's Manchester community and on Ironbridge Road in North Chesterfield.
The church is now reaching souls around the globe.
Dr. Derik E. Jones, pastor of First Baptist Church, said while he and his father, Senior Pastor Dwight C. Jones, have been streaming their Sunday sermons for years, the pandemic pushed First Baptist into a virtual international space in a way that they no longer can judge the number of worshipers or the extent of the ministry by what is seen in the pews on Sunday mornings.
"In the heart of the pandemic, we were attracting viewers from around the Commonwealth as well as all of the 50 states," the younger Dr. Jones said regarding the power of the internet.
"Surprisingly, however, we were getting viewership from France, Australia, Greenland and the Caribbean. This is here to stay. This is a gift," he said.
With the pandemic, "FBCSR has been able to attract more than 1,300 additional viewers each Sunday" that he may never see, shake their hands or give a hug," Dr. Jones told the Free Press in a recent interview. "They are invested in who we are and things the church is doing. That is encouraging."
That investment, he said, sometimes comes as weekly gifts and dollars donated to the church.
"Globally, people want to connect to the universal distinction of the Black church," he said, adding his surprise. "I did not see that coming."
Area entrepreneurs also have experienced some expansion of their services that did not exist before COVID-19. The pandemic closed some doors while opening other windows of opportunity.
For Gwen Hurt, owner of Shoe Crazy Wine, her small business was hit during the pandemic like most businesses around the country. Orders for the special blend of wines the company develops with vineyards in California and distributes dried up for about three months, Ms. Hurt said.
But that didn't stop Ms. Hurt.
"Some retailers and buyers I had been trying to get in touch with for years were working from home, so they had more control of their time," the sommelier told the Free Press. "Consequently, I could get in touch with more buyers."
That made it possible for Shoe Crazy Wine to have access to new retailers not only locally but in other states, she explained.
"That was the positive, unexpected opportunity from the pandemic," Ms. Hurt recalled. As a result, her business expanded into the Tennessee, Georgia and Maryland markets.
She also expanded into the liquor market and distribution. She is working with Blue Bee Cider in Scott's Addition.
"Shoe Crazy Wine is now Shoe Crazy Wine and Spirits," Ms. Hurt said. "The opportunity opened my eyes to work with other women in the industry."
According to Ms. Hurt, companies should recognize the positive springboard triggered by the pandemic.
That's what a local recreation company did as social distancing, outdoor exercise and family fun became extremely important during the COVID-19 lockdown. More and more people turned to cycling during the pandemic, which was great for Adventures in RVA, a family-owned bike and outdoor equipment rental business located in Shockoe Bottom.
According to owner Elvin Jefferson, COVID-19 was instrumental in causing a bike shortage, as retailers ran out of bikes for sale because of the widespread supply chain failure caused by the pandemic.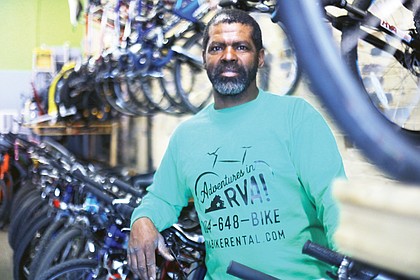 "People had no other option but to rent a bicycle," Mr. Jefferson said.
Adventures in RVA rents bikes by the hour, day or week for every kind of rider — mountain bikes, touring bikes, tandems and street bikes. People were anxious to get out into the fresh air and ride down the Virginia Capital Trail, the 52-mile paved bicycle and pedestrian trail along state Route 5 that links Richmond and Jamestown.
His shop is about two blocks from the start of the trail.
"My rental business doubled during the first month of COVID," Mr. Jefferson recalled. "And, in the second month, we began to run out of bikes.
"At one point, I had to increase my staff of two by hiring two more people. I also began repairing bikes that were out of commission," he said.
After two years of the pandemic, bike rentals have leveled off, he said.

"COVID got a lot of people in shape after they were at home eating more and more," he said with a laugh.