Displaced Fox Elementary students to start classes May 9 in Clark Springs building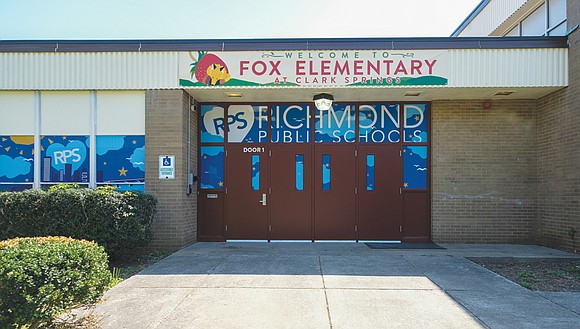 Fox Elementary School students, teachers and staff will move into Clark Springs Elementary School in early May for the remainder of the school year.
In a 5-0 vote on Monday night, the Richmond School Board approved an amended recommendation for the students to move Monday, May 9, into the school at 1101 Dance St. in Randolph from their temporarily quarters at First Baptist Church in The Fan.
This will be the second relocation for Fox students since their 111-year-old school building on Hanover Avenue in The Fan was ravaged by fire on Feb. 11. Following the fire, students had virtual instruction before resuming in-person learning March 21 at the church.
In the interim, Richmond Public Schools made $800,000 in repairs and upgrades to the vacant Clark Springs building, including electrical work, fresh paint, new exterior doors, ceiling tiles, mold removal and a new fire panel.
Clark Springs is expected to remain the learning space for Fox students until the fire-damaged school is rebuilt. No estimate has been given on when that project will start or be completed.
To accommodate the move to Clark Springs, Superintendent Jason Kamras proposed that Fox not hold classes on Thursday and Friday, April 28 and 29 or on Monday, May 2. He told the board that would give teachers and staff three days to move into their new classrooms and offices at Clark Springs.
But the board voted for Fox classes to be canceled all of next week, May 2 through 6, giving everyone a chance to
make the needed adjustments. The entire school system will be closed Tuesday, May 3, in observance of Eid al-Fitr, the Islamic holiday marking the end of Ramadan.
Four of the nine School Board members had left the long meeting before the vote was taken, hence the 5-0 vote. Members who left the meeting early were Liz B. Doerr, 1st District; Cheryl L. Burke, 6th District; Dawn C. Page, 8th District; and Nicole Jones, 9th District.
A recent RPS survey found that nearly 70 percent of Fox teachers wanted to move to Clark Springs Elementary as soon as possible.
Mr. Kamras said a professional moving company has been secured so teachers won't have to move their classrooms on their own.
Additionally, every Fox teacher will get a $500 Amazon gift card to help them with supplies.
"The time at the church has been extremely stressful," a speaker told the board during Monday's meeting. "The kids fight, the teachers yell and then they retreat into the hallway where they also cry."
Mr. Kamras thanked First Baptist Church for being a "flexible, generous and loving host" to the Fox Elementary family.