'We are resilient'
Fox Elementary School parents, students, teachers and administrators vow to bounce back after fire destroys the 111-year-old school on Hanover Avenue, sending students back to virtual learning
Five days after a huge blaze turned Fox Elementary School into a hulking ruin, students, parents, teachers and staff of The Fan school are readjusting to virtual learning.
Classes restarted with virtual, computer-based learning on Wednesday as working parents once again were forced to juggle schedules to enable their children to take part.
Before the fire, Fox enrolled 350 youngsters in pre-kindergarten through fifth grade, state data show.
On Tuesday, many of the parents went to Clark Springs Elementary to receive online learning kits while the school system delivered others to homes of parents who could not make it.
The three-alarm blaze, which engulfed the 111-year-old building at 2300 Hanover Ave. just after 10:30 p.m. last Friday, Feb. 11, destroyed the roof and second floor before being brought under control by about 75 firefighters.
For parents as well as students, the fire is bringing unexpected, unwanted but necessary change as it scrambles families' schedules and lives.
"Like the other working parents, I have to make adjustments going back to virtual learning," said Tamara Ross, whose 6-year-old daughter, Kori, is in kindergarten at Fox.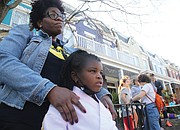 "I have to adjust my life so that Kori continues to get her education through this transition while I continue to try to work," said Ms. Ross, a licensed professional counselor for a health insurance company.
She said her employer is allowing her to change her schedule so she can be with her daughter from 8 a.m. to noon. But Ms. Ross said she is rushing to hire a babysitter for the remainder of the time her daughter is home so she can work.
The babysitter, she said, is an expense she hadn't expected.
"This creates a major life adjustment," she said, but "we know this is temporary."
Richmond Schools Superintendent Jason Kamras and Mayor Levar M. Stoney joined hundreds of people from the community Saturday who went to the site to see what was left of the building and mourn the loss. Mr. Kamras encouraged Richmond residents to donate gifts earmarked for Fox through the RPS Education Foundation.
Talks have begun about finding a temporary replacement building where classes can be held until Fox school can be rebuilt or replaced. Richmond Public Schools has insurance that will fully cover the replacement, according to Mr. Kamras.
But virtual is now the only option until in-person learning can be restored. The kits that were provided included schoolwork for each child's grade level, Chromebook laptop computers and hot spots to enable students to link to their class.
Parents also received information on counseling and were offered up to five days worth of food, which will continue to be distributed while the school remains virtual, according to RPS officials.
Parents also were told that RPS plans within a few days to offer child care to reduce the disruption to work schedules. A Fox Family Resource line has been set up at (804) 780-6259 to answer questions and provide families with food and technical support for computer issues.
Mr. Kamras said the school system has received a number of offers for substitute space, including from Virginia Commonwealth University, churches and nonprofits. The former Saint Gertrude High School, located just blocks away on Stuart Avenue, also has been discussed as a possible temporary school site for Fox students, along with the vacant Clark Springs Elementary on Dance Street in Randolph, although Mr. Kamras noted that Clark Springs' roof and some of the plumbing would need to be replaced.
"We are in the process of assessing the offers so students can get back to in-person learning," Mr. Kamras said. "That's what teachers, families and students want.
"Fox is a place of love, learning and joy. That has been taken away," he said Saturday, as he looked up at the damaged roof and second-floor windows. "Thank God no one was hurt, and we can replace the love, learning and joy—just somewhere else."
Fox School was filled with art, spirit
William F. Fox Elementary School in The Fan has a long history of serving Richmond students with innovative and creative approaches to education as well as serving as the social center of the neighborhood.
The 111-year-old building, while old, was known for its artistic interior. Professional artists had adorned the school hallways and student art was sprinkled through the building. The spirit generated a loyal cadre of alumni.
Tamara Moss is a Fox graduate from many years ago and has a family member working at the school now.
"I am in the school every year supporting my alma mater for career day," said Ms. Moss, a Richmond paramedic. "I remember how the floors sound when you walked on the wide boards in the hall. I also remember the friendships and the library."
Ms. Ross was on duty the night of the fire. She heard the call come in just after 10:30 p.m. last Friday and went to the school after her shift.
The only word she could summon about seeing her beloved school in flames was "sad."
Faithe Norrell, a fourth-generation Richmond educator and librarian, remembers the volume of art in the building. She worked at Fox Elementary in the 1990s.
"Art was our core at Fox, which included a theatric program," she said. "Fox was fully represented ethnically in the arts program, including the after-school initiatives." Fox had art auctions as fundraisers, using art pieces produced by adults from the district's art community as well as Fox students.
"This was a reflection of what the community wanted for their school and students," Ms. Norrell said.
The school, opened in September 1911, was named for William Fayette Fox, a Richmond Schools superintendent. Charles Robinson was the architect for the Hanover Avenue school.
It was noted for its wide, hardwood floors, high-ceiling halls, walls covered with bright and cheerful artwork and light streaming through the tall windows.
One corner classroom on the second floor had special windows that opened out rather than up or down. That window style is thought to improve air circulation.
Historically, the school is believed to have been the country's first public school with a motion-picture projection booth in the auditorium. According to records, the community was regularly invited to the school to view silent movies on Friday nights in the 1920s. The booth remains and now houses computer servers, but the projector is gone.
The school, occupying one square city block, is known as a place where lasting friendships and memories are established across ethnic, racial and socioeconomic lines.
Barbara Grey, coordinator of the Museum Art Galleries at Virginia Union University, is a former RPS principal who worked at Fox School for six and a half years. She retired in June 1990.
The 95-year-old educator recalled how Fox published student books and poetry. She said students created the art on the hallway walls. She said large, hanging bulletin boards were put on the walls for children to draw on whenever the spirit hit them.
"There was a larger drawing of a replica of the school with a picture of students' faces on the first-floor wall at the entrance of the school," Mrs. Grey said. "That was probably lost in the fire."
Gayle Evans Hefty, another former Fox educator, wrote about the school on her Facebook page this week.
"I spent 15 years at Fox from 1990-2005, the last seven as principal. Some of the very best years of my life," she wrote. "The building was beautiful too. It seemed to be more than brick and mortar but rather filled with a soul or a spirit."
Caitlyn Maze, a resident of The Fan, summed up the community love for the school: "Fox is the heart of the neighborhood and everyone loves Fox Elementary so much."
According to city property records, the Fox School structure is valued at almost $4 million. The ultimate plan, according to the School Board, is to rebuild at the same site.
The school was equipped with a full-blown alarm system. An hour before the blaze, firefighters responded to an alarm at the building, but found nothing amiss after a search of the interior.
Surprisingly, the alarm system at the building did not go off when fire began Friday night, according to recovered video released publicly by RPS officials. Fire was billowing from the roof when the firefighters returned at 10:39 p.m., but they were unable to bring the fire under control until 2:44 a.m. Saturday. The roof began to collapse about 11:09 p.m.
June Mena, whose two children attend the school, had tears in her eyes Saturday when she went by to see what happened. "It is shocking," Ms. Mena said. "Fox is everything for families in this community. Fox is a super welcoming environment. Fox is the center of the community."
School Board member Mariah L. White, 2nd District, said she is broken-hearted about what has happened.
"We are going to show we love our children," she said. "I saw the cries this morning. I saw the hugs as we told each other everything would be alright. We are resilient. We will bounce back. I am there for the people in my district."
Messages of love for the school were scrawled on the sidewalk. An on Valentine's Day, students, parents, area residents and others filled the fence outside the burned building with paper hearts carrying written messages of love, support and hope.
Gov. Glenn A. Youngkin visited the site late Monday afternoon after meeting with RPS and city officials.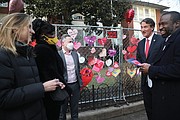 "This is a big challenge and so it's going to require coming together with lots of folks about the resources that the city will have. I know the General Assembly will be reviewing things," Gov. Youngkin told parents and students who assembled at the site. "We have to marshal all of the resources we can to get things right," he added.