Jackie Robinson Museum opens in New York
More than 4,000 artifacts trace baseball legend's life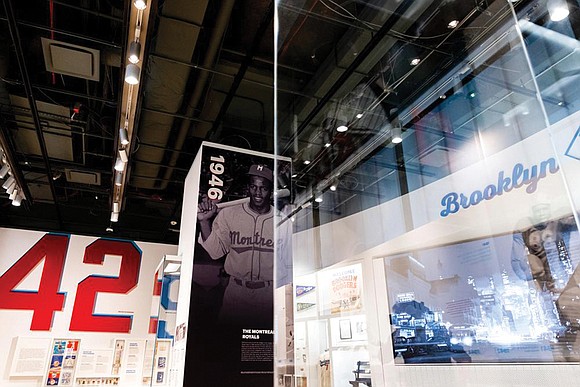 Tourists have a new "must- see" destination on trips to New York.
On July 26, the long-in-coming Jackie Robinson Museum opened in the SoHo district of lower Manhattan. The actual address is 75 Varick St., New York, N.Y., 10013.
Cutting the grand-opening ribbons from her wheelchair was Rachel Robinson, Robinson's 100-year-old widow.
Others in attendance were the Robinsons' surviving children, Sharon and David, filmmaker Spike Lee, tennis legend Billie Jean King, and New York City Mayor Eric Adams.
Under direction of the Jackie Robinson Foundation, the project had been in the works for 14 years. There were numerous delays, most recently due to the COVID-19 pandemic.
The Foundation raised $38 million on its own. The City of New York contributed another $2.6 million.
The 19,380-square-foot museum features 40,000 images, 450 hours of footage and some 4,000 artifacts involving Robinson's life on and off the diamond.
Exhibits tell the story of Robinson's illustrious athletic career, along with his contributions to fighting racial injustice.
Born Jan. 31, 1919, in Cairo, Ga. Robinson grew up in Southern California, where he became a four sport (baseball, basketball, football and track) standout at UCLA.
In 1945 he launched his pro baseball career with the Kansas City Monarchs of the Negro Leagues.
The next year he signed with the Brooklyn Dodgers, thus becoming the first African-American to join a mainstream team, the Montreal Royals. He joined the Dodgers on April 15, 1947.
Playing infield with Brooklyn from 1947 to 1956, he was a seven-time All-Star, Rookie of the Year in 1947 and an MVP in 1949. In 1955, he helped lead the Dodgers to their first World Series crown.
Always an exciting baserunner, "Jackrabbit Jack" stole home 19 times in the regular season and once in the 1956 World Series against the Yankees.
Robinson was named to baseball's Hall of Fame in 1962. He died in 1972.
Museum tickets are $18 for adults and $15 for students, seniors and children.