Eyeing state title, John Marshall's Justices rule the courts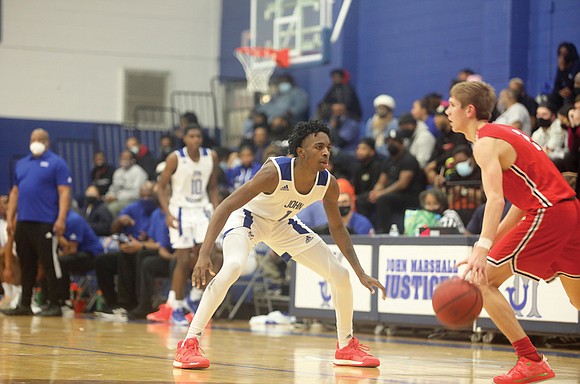 John Marshall High's basketball Justices likely held a winning hand without any outside help this season.
When "help" did arrive, in the form of three transfer aces and a precocious JV call-up , the North Side team may have stacked the deck regarding state-wide Class 2 hoops.
Coach Ty White's squad opened this week with a 9-4 record (ranked No. 1 in area polls) and a roster brimming with college-bound ballers.
With two state crowns in the last four years, John Marshall approaches every season expecting a state title. This year is a shining example of its superiority.
The Justices won Class 2 States in 2020, and surely would have won 2021 if not for opting out due to the Covid-19 pandemic. The headliner is returning forward Dennis Parker, arguably the state's top college prospect. Already the 6-foot-6 junior has offers from the likes of Kansas and Georgetown, with many more to follow.
"Dennis is coming into his own," said White. "He's starting to get national recognition."
Other key returnees from 2020 are guard Reginald Robinson and 6-foot-7 Malachi Dark, the great nephew of Richmond legend Jesse "Bodine" Dark.
Moving up from the 2020 JV team is dynamic point guard Damon "Lil' Redd" Thompson Jr., son of Damon "Redd" Thompson of Highland Springs High, Virginia State University and Arena League football fame.
The gnat-quick 5-foot-10 sophomore is like a whirlwind in John Marshall blue. He runs the show on offense, is a relentless defender and oozes confidence.
Then there are the newcomers, all juniors.
You can't miss them, starting with 6-foot-10 Tyler Mason who came from Bishop Walsh High in Cumberland, Md.
Then there is 6-foot-5 Steve Stinson Jr., from Trinity Episcopal High in South Richmond, and 6-foot-4 KaShawn Cordes from Hermitage in western Henrico.
All three might be the go-to man on any other team, but they've blended well with White's wide array of high-rising jump shooters.
White says this about Mason: "He's a skilled forward who leads our team in three-point shooting."
On Stinson: "Steven had 29 rebounds in a two-game stretch; he's a relentless worker."
On Cordes: "Super athletic ... he'll play in college somewhere."
Don't let the four losses fool you.
Three were to out-of-state powerhouses and the fourth to Landstown/Virginia Beach, when John Marshall had just six healthy players.
White could make a run at going undefeated if he scheduled only locally. Instead, each year he takes his team on the road to face some of the nation's elite.
"If you've got a hot car, you want to see how fast it'll go," said White. "You don't hide it in the garage."
Early losses were by 79-76 to Vertical Prep of Charlotte, by 63-61 in overtime to Landstown, by 54-50 to Archbishop Stepinac, White Plains, N.Y.
Over the Martin Luther King Jr. holiday weekend, John Marshall lost to Minnesota Prep and defeated Wheeler of Marietta, Ga., 91-88, in the MLK Classic at the St. James in Spingfield, Va.
John Marshall has had its share of difference-making transfers in recent years. Isaiah Todd (now in the NBA G-League, Jason Nelson (red-shirting at Richmond) and Roosevelt Wheeler (freshman at Louisville) are at the top of the list.
That said, White has developed an abundance of fine players on the North Side. Greg Jones, Jeremy Sheppard, Levar Allen, Isaiah Anderson and De-Marr McRae are just a few of White's "born 'n' bred Justices" who have gone on to play collegiately.
John Marshall has a history of growing stronger as the season wears on. The stiffest remaining test could come Feb. 5 against Hayfield High of Alexandria in the 9 p.m. main event of the Coaches for Cure Classic at Virginia State University.
Hayfield started this week 13-0 and is a favorite to win the State Class 6 (largest enrollment) title. JM is just Class 2, Virginia's second smallest level of enrollment.
Hayfield has many more students, but don't be surprised if John Marshall has more "aces."