RPS joins lawsuits that challenge Youngkin's push to stop mask mandates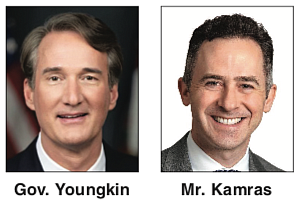 Richmond Public Schools is among six school districts to block Gov. Glenn Youngkin's executive order to repeal mandates for masking in schools to protect students from spreading the Covid-19 virus.
The governor's order gives parents the option to send their children to school without a mask.
The group of schools from Northern Virginia and Hampton Roads filed in Arlington Circuit Court on Monday, Jan. 24, the day Gov. Youngkin's order went into effect.
The group's lawsuit requests that the court issue an immediate injunction to stop the executive order, arguing the governor's directive goes against Virginia's Constitution and state law Sen- ate Bill 1303 for in-person instruction. The bill, passed in 2021, requires school districts to offer five days of in-person learning.
RPS, along with Alexandria City, Arlington County, Fairfax County, Falls Church City, Hampton City and Prince William County, collectively serve more than 350,000 children in the Commonwealth.
The legal action defends the right of school boards to enact policy at the local level, including policies that protect the health and well-being of all students and staff.
"Without today's action, school boards are placed in a legally untenable position — faced with an executive order that is in conflict with the constitution and state law. Today's action is not politically motivated," the school boards said in a joint statement.
Additionally, at issue is whether a governor can, through executive order and without legislative action by the Virginia General Assembly, reverse a lawfully-adopted statute.
RPS' decision to join the lawsuit follows an emergency special board meeting held on Sunday, Jan. 23, at Martin Luther King Middle School. During the meeting, the school board voted 5-3 to take legal action against Gov. Youngkin in an attempt to uphold the district's mask mandate. The voting took place after a one-hour closed session.
The dissenting votes included 3rd District and vice chair Kenya Gibson, 2nd District Mariah White, 4th District Jonathan Young voting no. Board Chair Shonda Harris-Muhammed, who represents the 6th District, abstained from voting
The board, citing a gag order by the board, declined to provide additional information.
Monday's news of Richmond joining the six commonwealth districts came as a surprise as the School Board did not indicate any legal action at Sunday's emergency meeting.
Local news outlets in Northern Virginia and Hampton Roads reported that their area divisions said that they would welcome the opportunity to collaborate with the governor to ensure the safety and welfare of all students.
During Sunday's meeting, Mary Kohn, a science teacher at Henderson Middle School, said she believes that the governor's executive order will be held up in the courts for a long time.
"I am hoping Superintendent Jason Kamras and the school board will protect the teachers and students from allowing the executive order to negatively affect us," Ms. Kohn said, "I don't think that it can be enforced."
The sixth-grade teacher also said it is hypocritical for Gov. Youngkin to rescind mask mandates for schools across the Commonwealth while one of his sons, who attends Georgetown Preparatory in North Bethesda, Md., is mandated to be vaccinated and wear a mask to class.
Meanwhile, Gov. Youngkin's intention to pursue his agenda remains clear.
The administration is "disappointed that these school boards are ignoring parents' rights," said Macaulay Porter, a Gov. Youngkin spokesman.
"The governor and Attorney General Jason Miyares are in coordination and are committed to aggressively defending parents' fundamental right to make decisions with regard to their child's upbringing, education and care, as the legal process plays out," Mr. Porter said on Monday.
Gov. Young also tweeted Monday morning, "While the legal process continues on the parental opt out of mask mandates for their children in schools, I urge everyone to love your neighbor, to listen to school principals, and to trust the legal process."
In addition to Monday's school boards' legal action, last Tuesday, Jan. 19, a group of 13 parents with children in Chesapeake City Public Schools filed a lawsuit in Virginia's Supreme Court against Gov. Youngkin's order. It states the order goes against the state law calling for each school board to implement guidance from the Centers for Disease Control and Prevention "to the maximum extent practicable."
The Chesapeake parents' complaint challenges Gov. Youngkin's authority to implement such actions, asserting that local school boards and the General Assembly "share primary responsibility for public school education."
Although Gov. Youngkin's mask mandate continues to garner attention, his executive order to ban the teaching of critical race theory in public schools gained a new twist when the corporate executive-turned-politician announced a "parental helpline" email address that allows parents to identify schools "where divisive practices" are being taught. Gov. Youngkin's announcement about the tip line came during an interview with a conservative radio host earlier his week. During the interview, Gov. Youngkin said he wants to "catalog instances" where schools have defied his ban on critical race theory.