Jefferson Davis rises again at The Valentine
6/23/2022, 6 p.m.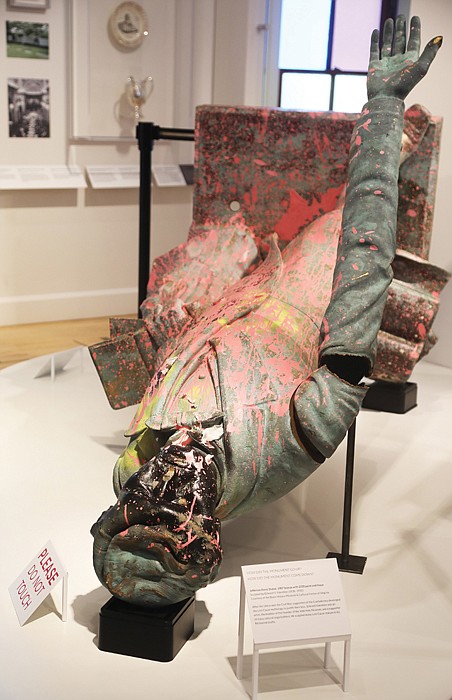 The Jefferson Davis statue, erected in 1907 on Monument Avenue and pulled down by protesters on June 10, 2020, was recently unveiled at the Valentine Museum.
It is now on display within The Valentine's core exhibit, "This Is Richmond, Virginia," for at least six months while on loan from the Black History Museum & Cultural Center of Virginia.
Valentine officials say visitor feedback will help inform its interpretation of the Edward Valentine Sculpture Studio, where the Davis statue was created by the museum's first president.
The statue was erected as remembrance of the Civil War's president of the Confederate States of America from 1861 to 1865.
"This is a critical time to have a conversation about our shared history and light the path forward," said Bill Martin, the Valentine's director. "We want to create a safe space for people to learn, be challenged and confront their assumptions and biases about Richmond's troubling past."
Mr. Martin adds that the Edward Valentine Sculpture Studio "is an important piece of Richmond history, so it's crucial for us to hear from the community on how to present complex topics like the Lost Cause and Jim Crow-era racism."
A Valentine community survey conducted showed that 80 percent of respondents want to see Confederate monuments in museums with appropriate context, rather than displayed in public spaces or destroyed.
Most of Richmond's Confederate monuments were recently gifted by the City of Richmond to the Black History Museum & Cultural Center of Virginia, which then temporarily loaned the Davis statue to The Valentine.