The U.S. Supreme Court's Roe v. Wade decision and what it means for Virginia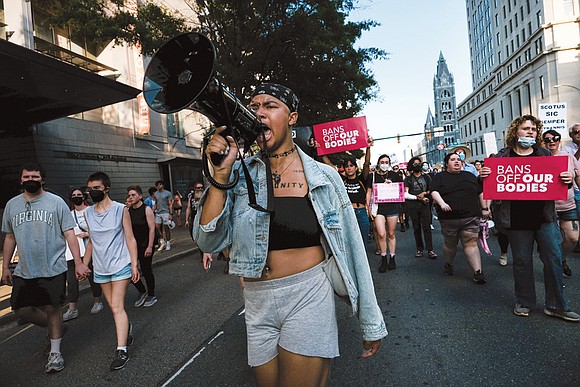 The U.S. Supreme Court on Friday overturned Roe v. Wade, the 1973 decision that had provided a constitutional right to abortion. The June 24 ruling is expected to lead to abortion bans in roughly half the states, although the timing of those laws taking effect varies.
Some Republican-led states will ban or severely limit abortion immediately, while other restrictions will take effect later. At least one state, Texas, is waiting until after the Supreme Court issues its formal judgment in the case, which is separate from the opinion issued Friday and could take about a month.
In anticipation of the decision, several states led by Democrats have taken steps to protect abortion access. The decision also sets up the potential for legal fights between the states over whether providers and those who help women obtain abortions can be sued or prosecuted.
How does the ruling impact Virginia?
Political control: Virginia has a Republican governor who says he would support new state-level restrictions on abortion. Gov. Glenn Youngkin said Friday that he will seek legislation to ban most abortions after 15 weeks. Gov. Youngkin told The Washington Post he has asked four antiabortion Republican lawmakers to draft the legislation. He told the Post that a cutoff at 20 weeks might be necessary to build consensus in the divided Virginia legislature, where Republicans control the House and Democrats control the Senate. Gov. Youngkin generally supports exceptions to abortion restrictions in cases of rape, incest or when the life of the mother is in danger.
Background: In recent years, when Democrats were in full control of state government, lawmakers rolled back abortion restrictions. They ended strict building code requirements on facilities where abortions are performed and did away with requirements that a patient seeking an abortion undergo a 24-hour waiting period and ultrasound. Advocates said the changes would make Virginia a haven for abortion access in the South. Republican victories in the November elections shook up the state's political landscape, but Senate Democrats defeated several measures that would have limited abortion access during the 2022 legislative session.
Effect of Supreme Court ruling: There will be no immediate change to abortion laws in Virginia now that Roe v. Wade has been overturned. Some abortion providers expect to see an uptick in patients seeking care in Virginia from neighboring states with "trigger laws" that would ban abortion.
What's next: The future of abortion access is Virginia is murky. Senate Democrats say they intend to continue blocking attempts to roll back abortion access, though they control the chamber by the narrowest possible margin and have one caucus member who personally opposes abortion and says he is open to new restrictions. Republicans also have a narrow hold on the House, with several moderate members. Every seat in the General Assembly will be on the ballot in 2023.
Meanwhile, hours after the Supreme Court ruling, hundreds of protesters marched along Richmond streets to voice their disappointment.
"I actually cried because I was overcome with emotions and grief," said one of the lead protesters, a Virginia Commonwealth student who goes by the name Kam. "I also was angry and wanted to express my anger because it's a personal connection."
The film major who celebrates her 20th birthday June 30 said that despite her frustration, she refuses to give up and will continue to fight for women to make their own decisions about their bodies.
As a frequent speaker during protest rallies, Kam said she will remember the words of Mariame Kaba, the American activist, grassroots organizer, and educator who advocates for the abolition of the prison industrial complex.
"Let this radicalize you rather than lead you to despair," she said, quoting Ms. Kaba. "Let's not go back, let's build something better."