Fascination with Teslas prompt second-grader with autism to write book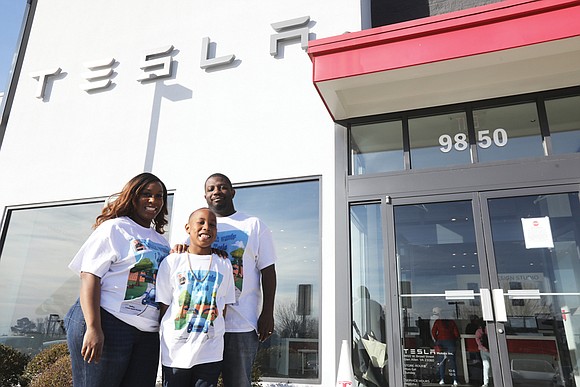 "Uziah Wants a Tesla."
That is the title and focus of the new book by 8-year-old author Uziah Smith-Bashir of Henrico.
The main character woke up one morning wanting a Tesla, an electric car that starts at $45,000, paid for by his parents.
The book's storyline also challenges young readers to save and invest their money.
In real life, Uziah is obsessed with Tesla cars. It started when he saw a fellow student being dropped off at their school, Thales Academy, a private school in Glen Allen that goes through the third-grade. The car, a Tesla, has double-hinged, "falcon-wing" doors that rise up to open.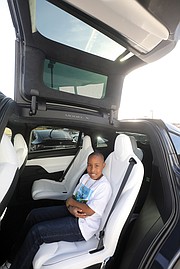 "I love Tesla cars because they have doors that go up like wings," Uziah told the Free Press. "You can play games in them. You can fit in the trunk and they have a lot of power."
That was the start of Uziah's fascination and what prompted him to write a book.
Producing it was a labor of love, as well as an indication that Uziah was growing in many other ways. People didn't know Uziah was diagnosed with high-functioning autism, which is characterized by repetitive behaviors, speech and nonverbal communication and challenges with social skills.
Since working on the book, however, those typical autistic behaviors have changed for the second-grader, according to his mother.
"Now to see him doing so well with reading, writing and being with other students while he is around them, as well as gaining expanded knowledge and understanding, was impres- sive," his mother, Nafeesa Bashir-James, said proudly about his advancements.
Like the character in his book, Uziah thought his parents should buy him such a wonderful, unique car when he grows up. However, his mother, a real estate agent, and his father, Torrey James, a manager at Supported Employment of Virginia, an agency that helps people with disabilities find community-based employment, enlightened their young son about the value of saving for his dream.
That was the catalyst for Uziah's book to go from idea to reality.
"I am saving my money and finding ways to invest for my future," Uziah said, as he demonstrates the advice he gives in his book. "If you are spending your money, you are not investing," Uziah said. "That's why I wrote the book."
Uziah also includes his stepbrother, Dakari Fleming, as a character in his book.
Ms. Bashir-James said for every school story assignment, no matter the subject, Uziah used Teslas as the subject.
Writing "Uziah Wants a Tesla" was a combined effort of Uziah's family, as well as his teacher at Thales Academy. They all assisted with writing and dialogue, layout and artwork design.
"The characters in my book also look like my family," Uziah said.
"Uziah was interested in the design and technology of making the car," his mom said. "We took him to the Tesla dealership on West Broad Street. They were so impressed with Uziah and his book."
Uziah's opportunity to see his dream car up close was exciting.
"Uziah sat in the driver's seat, with a full left-to-right cheek smile," his father said.
The youngster inspected the car inside and out and talked with the sales staff about the car—and his new book.
"We stayed there for more than an hour and a half," Mr. James said. "He didn't want to leave."
Uziah told the Free Press he now wants to buy two Teslas when he grows up – one for himself and one for his parents. His parents laughed.
"We try to instill in our children that if you want something, you have to go get it," Mr. James said. "We just laid the foundation on how to be responsible and believing in yourself. If you don't believe in yourself, no one will believe in you."
Those are lessons Uziah wants to pass along to friends, his classmates and readers of his new book.
Uziah and his family are holding a book launch 11 a.m. to 1 p.m. Saturday, March 26, at Launch Trampoline Park, 10903 Hull Street Road in Midlothian.
A list of his upcoming book signings is available at uziahllc.com.