VUU, VSU join public schools to retain Black and Latino male teachers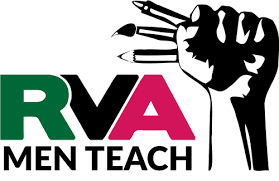 Richmond Public Schools' RVA Men Teach program has partnered with Virginia Union and Virginia State universities to create a Teacher Residency program for male minority teachers.
Rodney A. Robinson, the 2019 National Teacher of the Year, is RPS' senior policy adviser and director for Teacher Pathways/ RVA Men Teach, a new program designed to recruit and retain African-American and Latino men as teachers, specifically for pub- lic schools in Richmond and Petersburg.
Mr. Robinson, a 20-year teaching veteran, told the Free Press that the program is funded by the Virginia Department of Education for one year.
"The program is a result of a combination of addressing a part of RPS' 2018 Strategic Plan, 'Dreams4RPS' to increase the number of male and minority teacher in the district," Mr. Robinson said. During his national tenure as Teacher of the Year, Mr. Robinson focused on recruiting more minority teachers into urban classrooms.
The goal of "RVA Men Teach" is to improve students' academic, social, and professional outcomes by recruiting male minority educators, providing an opportunity to earn a master's degree in elementary education and special education at VUU or VSU.
According to "RVA Men Teach," male educators of color currently represent 2 percent of the teacher workforce.
Men interested in the program must have a bachelor's degree or the equivalent in experience in the field of education. Candidates also must commit to teach for three in Richmond or Petersburg after earning their degrees.
The application deadline is June 1. To apply visit https://www.vsu.edu/admissions/apply/graduate-apply/index.php