Witness to history
11/23/2022, 6 p.m.
We will be witnesses to more history when Congress reconvenes in January.
New Jersey Rep. Hakeem Jeffries, a five-term representative, will take over leadership of the Democratic Caucus in the House as the successor to California Rep. Nancy Pelosi, 82, who is giving up the post after 2O years.
Rep. Jeffries, the future House minority leader, apparently has wide support and is to be elected ahead of the start of the 118th Congress. He will be the first Black Democrat or Republican to lead a major party caucus in either chamber.
Best known for a bipartisan sentencing reform bill, Rep. Jeffries won Rep. Pelosi's endorsement after chairing the House Democratic Caucus, currently the No. 4 leadership post.
There are other history-making moves in the works as well for the Caucus.
California Rep. Peter R. "Pete" Aguilar, who is currently vice chair of the House Democratic Caucus, stands to replace Rep. Jeffries as Caucus chair in what will be the No. 3 post. He would be the first Latino to hold the post.
Two other members of the Congressional Black Caucus also could be in leadership posts, the most ever.
One is South Carolina Rep. James Clyburn who agreed to give up the No. 3 post of whip, but has notified Democrats that he hopes to win elections as assistant Caucus leader to serve as a mentor to the younger members now taking the top post.
The other is Colorado Rep. Joe Neguse, who is on track to chair the House Democratic Policy and Communications Committee, the messaging arm of the House Caucus.
And there will be a woman in the No. 2 post, Massachusetts Rep. Katherine Clark.
Most people never expected to see a Black president, but we got there.
Now we are ready to pass another milestone, with three members of the Black Caucus on track to gain leadership posts in a major party. All this would have been unimaginable 20 years ago, and yet, here we are.
Let us hope that this change will turn out to be meaningful for the people whom Congress serves.
---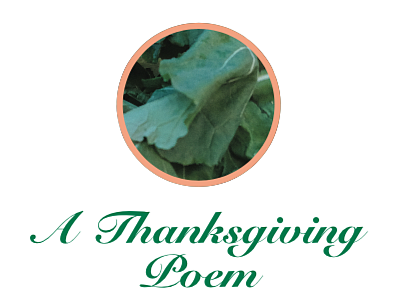 The sun hath shed its kindly light, Our harvesting is gladly o'er
Our fields have felt no killing blight, Our bins are filled with goodly store.
From pestilence, fire, flood, and sword We have been spared by thy decree, And now with humble hearts, O Lord,
We come to pay our thanks to thee. We feel that had our merits been
The measure of thy gifts to us, We erring children, born of sin,
Might not now be rejoicing thus.
No deed of our hath brought us grace;
When thou were nigh our sight was dull, We hid in trembling from thy face,
But thou, O God, wert merciful.
Thy mighty hand o'er all the land Hath still been open to bestow
Those blessings which our wants demand From heaven, whence all blessings flow.
Thou hast, with ever watchful eye, Looked down on us with holy care,
And from thy storehouse in the sky Hast scattered plenty everywhere.
Then lift we up our songs of praise To thee, O Father, good and kind;
To thee we consecrate our days;
Be thine the temple of each mind.
With incense sweet our thanks ascend; Before thy works our powers pall;
Though we should strive years without end, We could not thank thee for them all.
Paul Laurence Dunbar
1872-1906