'Black history in Virginia is Virginia's story'
Museum exhibit explores freedom, justice, equality
George Copeland Jr. | 2/2/2023, 6 p.m.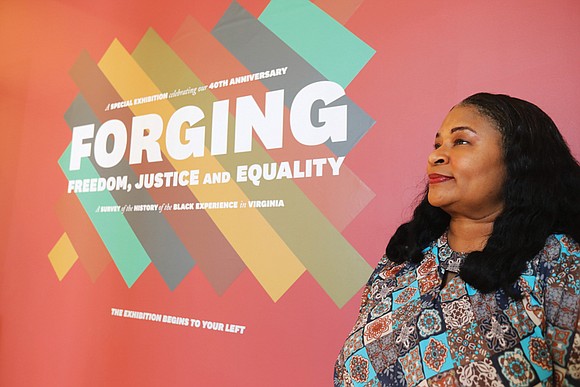 From a weathered slave auction block used in 19th Century South Carolina, to the military attire, documents and scientific tools of soldiers, teachers and doctors, each item in Jackson Ward's Black History Museum and Cultural Center of Virginia tells a story.
Whether those stories are as inspiring as the medical tools of Drs. Zenobia G. Gilpin and Isiah A. Jackson Sr., or as haunting as an 1854 deed of sale for a 6-year-old Black girl in Westmoreland County, they help deepen and expand the perception of Black history in Virginia.
The exhibition, "Forging Freedom, Justice and Equality," was intended to feature 40 items but soon grew to more than 100 photographs, documents and objects, collected from families, groups and private organizations throughout Virginia, including the museum itself and the personal collection of historian Elvatrice Parker Belsches, the exhibit's curator.
Since its debut last September, "Forging Freedom" has been viewed by approximately 2,500 visitors thus far, according to museum officials.
"The exhibit is enlightening and inspiring," said Ryan K. Smith, a professor in Virginia Commonwealth University's Department of History, who visited on opening day and pointed to the clothing, the stories of free men in antebellum Virginia, and the history of academic achievement as particular strengths of the exhibit.
"Given the news and educational environment today, the exhibit shows how necessary it is to learn these stories."
"Forging Freedom" covers six different themes, including African-American life in Virginia before the Civil War, their part in the military, the role of religion in shaping Virginia's Black community, and the successes of that community culturally, academically and economically.
A curator and historian who has brought more insight into the lives of Maggie L. Walker and Virginia Randolph, and served as in-studio researcher for the Steven Speilberg film "Lincoln," Ms. Belsches was contracted by the museum to identify, acquire and research pieces for an exhibition depicting centuries of Black history in Virginia, as a guest curator, museum educator and historian.
Her work has not gone unnoticed.
"It was wonderful to witness it," said Janis Allen, president of the Historic Jackson Ward Association, who attended the opening in September and has seen the exhibit several times since then. "The excitement that night was just palpable."
In addition to individuals or couples who view the exhibit, Ms. Belsches has guided numerous civic and cultural groups since the opening.
And while she plans to bring in even more groups, she still delights in the excitement of those on the tour, and sees it as vindication of both the work done and the power of the lives and stories spotlighted.
"When you marry powerful storytelling with sound scholarship," Ms. Belsches said, "the results are public history at its finest."
In organizing the exhibit, a major goal for Ms. Belsches was to showcase aspects of African-American history in Virginia
that are unknown or rarely discussed. The work of educators at historically black colleges teaching students scientific and technical trade skills or social justice efforts before emancipation are among the areas emphasized.
These stories are featured alongside people such as Danville native Camilla Williams, the first known Black woman to have a leading role in a major opera company, and a vocal professor at Indiana University Bloomington from 1977 to 1997. Also featured is Richmond native George Lewis Ruffin, the first African-American graduate of Harvard Law School in 1869, the first Black Boston City Council member in 1875 and the first Black judge in Massachusetts in 1883.
For Ms. Belsches, the stories and lives on display are not just great stories that challenge misconceptions of African-American history in Virginia. They also are "guideposts to success for today" for the public and community.
"The role of education historically and the role of the Black church, coupled with a profound sense of collectivism enabled Blacks to found and lead pioneering banks and organizations nationally in the wake of freedom," Ms. Belsches said. "Compelling examples of social justice initiatives before freedom came and the ability to overcome unjust laws and practices offer extraordinary narratives.
"I want visitors to walk away with the firm belief that if these people born before and in the wake of freedom could accomplish these feats, with faith, education and collectivism all things are possible today!"
Besides providing new perspectives of African-American history in Virginia, "Forging Freedom" is a key part of the Black History Museum's 40th anniversary. The museum was founded in 1981 by Carroll Anderson Sr. and debuted in 1991 at 100 Clay St. with roughly 500 items, documents and artifacts. It moved to its current location at 122 W Leigh St. in 2016.
For those who have seen the exhibit, the critical role of the museum in the creation of the exhibit, and finding and maintaining this history is clear.
"There was plenty of information that I had never heard of before and several parts of the exhibit were almost unbelievable," said Richmonder Lynne Clark Rozier, a graduate of Hampton University and Howard Law School who attended the show's opening with several of her Hampton classmates to support Ms. Belsches, also a fellow classmate.
"Our history is so rich and we have not been taught the depth of our contributions to this country. Thankfully, the Black History Museum and historians like (Elvatrice) are up to the task," said Mrs. Rozier.
"The exhibit offers another great reason to visit the Black History Museum and Cultural Center of Virginia," Mr. Smith added, "which is itself an unparalleled architectural setting and community resource."
The exhibition will end April 29, yet plans already are underway to preserve the touring experience for the future.
For her part, Ms. Belsches hopes to create a video showcasing the featured items. Meanwhile, the museum will continue to digitize its own collection while also seeking a permanent executive director.
Ms. Belsches anticipates heightened interest in the exhibit during Black History Month as word of mouth and curiosity draw more people to the West Leigh Street facility.
"Black history in Virginia is Virginia's story," said Mary C. Lauderdale, the museum's director of collections who has worked at the museum for more than 25 years. "It is integral to the success of the state and of folks understanding what it is to be an African-American and to be an American.
"And that is our mission — to preserve the stories, to tell the stories, the untold stories, and how they are integral to the story of Virginia and the United States."