Huguenot hoping to regain lost glory
Fred Jeter | 8/18/2014, 1:14 p.m.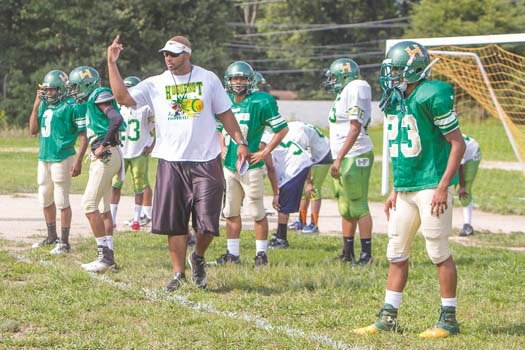 It's a good thing Huguenot High's new football coach, Bryan Jennings, has thick, broad shoulders.
Much heavy lifting is necessary if the Falcons are to regain lost glory.
The Southsiders have been 1-9 each of the last four years, in 2010 and 2011 under Ron Gundry and the past two seasons under Kevin Allen.
The Falcons were outscored 441-55 overall last year and will play essentially the same schedule this go-round.
Huguenot has a very early Aug. 22 opener at Norview in Norfolk, the same squad that routed the Falcons 41-0 in 2013.  
Jennings, 39, is a robust 6-foot-4, 270-pound former All Big-East tight end at Virginia Tech who played briefly in the NFL with San Diego, Houston and Tennessee.
A younger brother, Rashad Jennings, is a tailback with the New York Giants.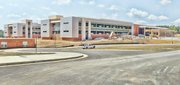 For right now, Huguenot ranks among the most difficult coaching jobs in Virginia, while construction crews put finishing touches on the new Huguenot next door.
For the fourth straight year, the Falcons have no home field or even an on-campus practice area. The team is busing players to Lucille Brown Middle School for workouts this month. Starting in September, practices move to Westover Playground.
The new Huguenot is set to open January 2015; meaning football returns to Forest Hill next fall.
"It's a unique situation, for now, but the future is bright," said Jennings, who served the past three years as defensive coordinator at James River High.
He also has assisted at Atlantic Shores in Virginia Beach and Liberty Christian in his hometown of Lynchburg.
Be prepared for a shock if you haven't driven by Huguenot in recent months. The landscape has changed dramatically.
"We'll have a state-of-the art facility, with FieldTurf (synthetic grass), and plenty of enthusiasm," said the new coach.
"Right now we're laying a foundation. We'll grit and grind … we know we got to be road warriors."
Jennings is fighting a numbers game, among other things. He lists just 27, for now, on varsity and "10 to 15" on JV.
"I just have a few seniors," he said. "But I give those kids lots of credit, considering all the craziness they've been through."
The coach plans to run spread offense with fleet quarterback Freddie Vincent. Jennings feels he has a bona fide college prospect in 6-foot-6, 210-pound James Fagan.
Every game (and practice) will involve a bus ride, including homecoming, Oct. 24, against Midlothian at City Stadium.
"At least we'll get a lot of time to spend together," Jennings said of the frequent bus treks.
Huguenot opened in 1960 as a Chesterfield County school. It became a city school in 1970 following Richmond annexation.
The new facility will become first new comprehensive high school in Richmond since the opening of John F. Kennedy (now Armstrong) in the late 1960s.
•
This is the final year Huguenot plays essentially an old Dominion District schedule.
However, anticipating larger enrollment when the new facility opens, it appears the Falcons may move from 3A Conference 26 to 4A Conference 20 in 2015-16.
That would mean leaving the conference with other Richmond City schools and moving into the conference with Hanover, Dinwiddie, Midlothian, Monacan and Powhatan.
•
Football hasn't always been a struggle at Huguenot.
From 1988 to 2005, coach Richard McFee posted a 126-61 record that included numerous District titles and Regional appearances.
The Falcons reached State AAA finals in 1988, McFee's first season, losing to E.C. Glass at City Stadium.
Huguenot alumni include receiver David Terrell, the Chicago Bears' No. 1 draft choice in 2001 following an All-America career at Michigan.
McFee now assists at Atlee High.