Miller out at VSU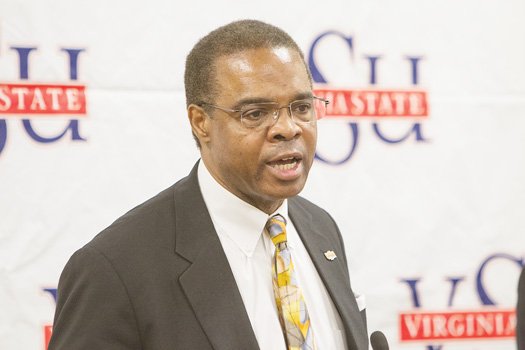 "Great things are happening at VSU!"
That slogan tops the university president's page on Virginia State University's website.
It's ironic because the president just announced his resignation.
Dr. Keith T. Miller handed in his notice last Friday at the start of a closed-door meeting of the university's board of visitors. His resignation comes four and a half years after taking the helm of the 132-year-old institution and more than two years before his contract was to expire.
He negotiated a "golden parachute" ahead of the special meeting.
Harry Black, the board's rector, later disclosed that Dr. Miller, 59, will receive his base pay of $356,324 for an additional 12 months while on sabbatical or leave. After that, he could return to VSU as a tenured professor if he chooses.
"President Miller is to be commended for his integrity and putting the interests of Virginia State University and its students at the forefront of this difficult decision," Mr. Black stated in a press release issued after the meeting.
Dr. Miller, who arrived at VSU in the summer of 2010 to take over from 17-year president Eddie N. Moore Jr., officially will step down Dec. 31.
The board plans to choose an interim president during its next regular meeting Nov. 13-14. A national search will begin next year for a replacement to serve as the university's 14th president.
"I think we've had a nice run," Dr. Miller said after leaving the board meeting. He called VSU "a great place with a terrific future."
Both Dr. Miller and the board agreed on the need for new leadership for the historically black university that has been walloped by shrinking enrollment and financial stress, Mr. Black said.
Looking ahead, the focus of the national search is likely to be on attracting a person with strong HBCU experience and connections that Dr. Miller lacked, as well as demonstrated management and administrative ability, several board members said. Previous fundraising success also could be a factor.
Dr. Miller ran into trouble when he was unable to stem the decline in student enrollment, which has fallen by more than 1,000 students in the past two years. That is a reversal from the growth enjoyed initially by Dr. Miller and by his predecessor, Mr. Moore, now president of Norfolk State University. Just two years ago in 2012, VSU enrolled 6,200 students, the most in its history.
However, this fall, VSU reported 4,995 undergraduate and graduate students enrolled, and the university expects 300 to 400 fewer students to be on campus during the spring semester because of the number of seniors graduating in December.

The result of VSU's sagging enrollment: A $19 million revenue shortfall that forced cutbacks that are biting into university services.
The most serious problem stems from debt the university ran up building new dorms and apartments. The budget approved by the board of visitors in June projected 900 more students to stay in university-owned housing than actually occurred.
That alone created $12 million of the $19 million revenue loss, according to VSU documents. And there is every indication dorm use could remain low and create additional headaches in the 2015 and 2016 budgets. Loss of tuition from lower enrollment and reduced federal and state funding accounted for the rest of the revenue drop.