NSU wins bragging rights after Battle of the Bay
Fred Jeter | 10/24/2014, 6 a.m.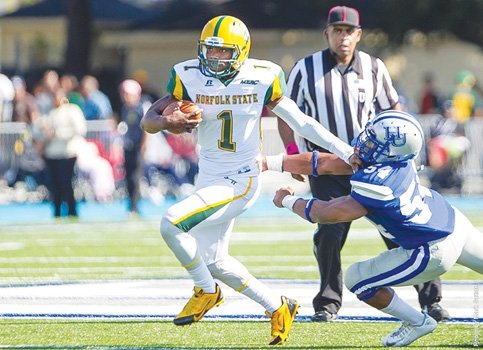 Terrance Ervin is among the most successful quarterbacks in state high school football history.
Now it seems he has carried that winning spirit to the college campus.
As a Norfolk State University freshman, Ervin passed for 335 yards and three touchdowns, spurring the Spartans to a 21-13 victory over Hampton University in the annual Battle of the Bay.
The victory gives NSU a 26-25-1 edge in the decades-long rivalry between schools separated by just 14.8 miles on opposite sides of the Chesapeake Bay.
Hampton had won four of the previous six matches before Oct. 18.
Before a crowd of 16,223 at Hampton's Armstrong Stadium, Ervin connected on 22 of 31 passes. He connected with Keith Johnson for a 29-yard touchdown in the first period.
Wearing jersey No. 1, Ervin found his favorite target, Isaac White, for a 12-yard score in the third period and White again for a put-away, 30-yarder in the fourth period.
White finished with 10 catches for 150 yards.
The win lifts NSU to 3-5 overall and 3-1 in the MEAC. The Spartans have until Nov. 1 to celebrate, when they travel to Florida A&M University in Tallahassee.
With its next game at Delaware State on Oct. 25, Hampton falls to 1-6, 0-3 under first-year coach Connell Maynor.
The 6-foot-3, 210-pound Ervin arrived at NSU with impeccable credentials. At L.C. Bird High School in Chester, he led the Skyhawks to back-to-back state crowns.
Ervin's two-year record at Bird, after transferring from Henrico High School, was 29-0. In two seasons, he threw for 3,666 yards and 50 touchdowns.
Heavily recruited, he first committed to Liberty University before changing his mind and joining 10th-year coach Pete Adrian at NSU.
White, a 6-foot-3 junior from Portsmouth's I.C. Norcom High School, also has some Richmond-area "connections" of sorts. He's another with lots of winning experience in his background.
As a Norcom sophomore and junior, White helped the Greyhounds to state basketball titles in 2010 and 2011 in events held at Virginia Commonwealth University's Siegel Center in Richmond.