New VSU football coach has Trojan roots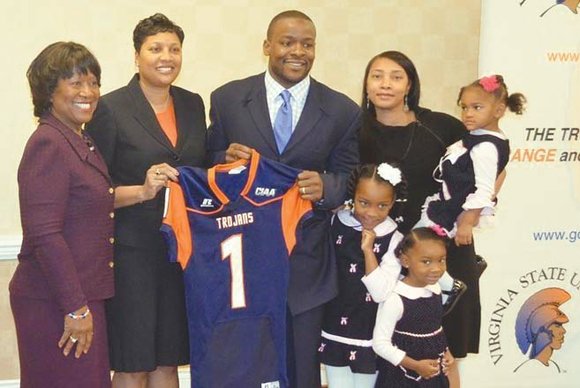 Byron Douglas Thweatt says becoming the head football coach at Virginia State University is "like coming home."
Thweatt, who was formally announced as the Trojans' coach Jan. 8, grew up practically in the shadows of the Rogers Stadium goal posts.
"My mother is a VSU grad. My grand- mother is, too, along with a host of cousins, uncles and aunts," he explained.
His father also attended VSU for two years but did not graduate.
"He left after two years to go to work — when I came along," he explains.
In Ettrick, Thweatt succeeds Latrell Scott, who was 19-5 in two seasons before resigning in December to become Norfolk State University's coach.
Always a Trojans' fan, Thweatt now will be the Trojans' main man on the sidelines, succeeding his close friend and former coaching boss, Scott, under whom he served as an assistant in 2010 at the University of Richmond.
Scott invited Thweatt to join his VSU staff in 2013, but Thweatt declined.
"But as soon as I saw coach Scott was going to Norfolk, I applied for the job here," said Thweatt.
"I've groomed myself for this for eight years. It's finally arrived."
VSU Athletic Director Peggy Davis said Thweatt impressed the search committee members with more than just his football knowledge.
"Byron is part of VSU," said Ms. Da- vis, noting his family connection with the university. "We chose Byron because of his character and his leadership skills."
The eldest son of Janet and Fred Thweatt, who still reside in southern Chesterfield, was born March 21, 1977, at Petersburg General Hospital.
As a youngster, Thweatt attended VSU football games, just minutes from his home, and even had his hair cut at the University Barber Shop on campus.
He would enjoy gridiron fame at Matoaca High School, where he was an All-State Group AA running back/linebacker and among the state's most recruited athletes.
As a four-year regular at the University of Virginia from 1997 to 2000, he was a team captain, All-ACC linebacker and lead- ing tackler as a junior and senior
under coach George Welsh.
In Charlottesville, he started 47 straight games, a Cavaliers record for linebackers, with 387 career tackles.
Pro ball beckoned for the muscular 6-foot-tall, 230-pound Thweatt. In 2001, Thweatt played five games with the NFL Tennessee Titans. He also spent time on Tampa Bay's practice squad and competed in NFL Europe for Berlin, Germany.
After one season as a graduate assistant
coach at U.Va. in 2006, Thweatt joined the coaching staff at the University of Richmond. He has been an assistant coach at UR for the last eight seasons under coaches Dave Clawson, Mike London, Scott, Wayne Lineburg and, most recently, Danny Rocco.
In 2009, UR won the FCS national title. In 2008, the Spiders were national semifinalists. UR made the FCS playoffs in four of Thweatt's eight campaigns.
This past season, the Spiders made it to the second round of the FCS playoffs with Thweatt serving as linebackers coach and director of high school relations.