VSU Trojans trying for first win in Tennessee
Fred Jeter | 9/11/2015, 1:07 a.m.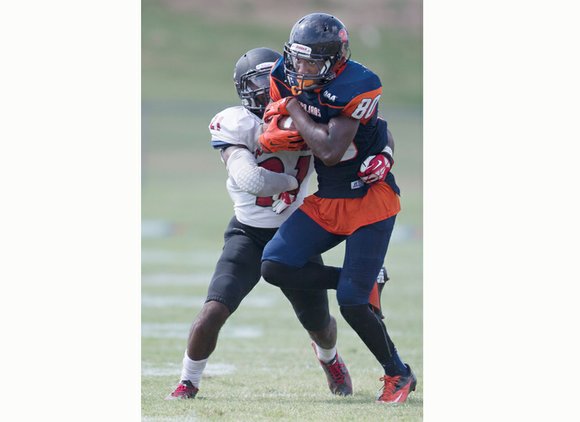 Virginia State University is 0-1 and facing a 405-mile bus ride to try and even the ledger.
The Byron Thweatt football coaching era began last Saturday at Rogers Stadium in Ettrick with a 35-16 loss to California University of Pennsylvania, which is part of the tough Pennsylvania State Athletic Conference.
Next up for the VSU Trojans is a trip to Greeneville, Tenn., on Sept. 12 to face a fired-up Tusculum College squad.
The 1 p.m. kickoff will be carried on WVST, 91.3 FM.
Tusculum College, with 51 returning lettermen from last year's 6-5 outfit, overcame a 21-point deficit to defeat the University of Virginia at Wise 47-28 in its opener. In his first college start, quarterback Luke Lancaster threw for 477 yards and four touchdowns.
Saturday's game will mark VSU's first-ever match with Tusculum.
VSU's former Coach Latrell Scott employed a strategy to challenge his Trojans early with rugged out-of-conference foes, NCAA Division II foes of the type VSU is likely to face in postseason play.
VSU started 1-1 in 2013, losing at Benedict College in the second week, but finishing the season 9-1.
In 2014, the Trojans started 0-2, losing to California University of Pennsylvania and Lenoir-Rhyne University. But then VSU went on a 10-game winning streak en route to the CIAA title and NCAA playoffs.
VSU's historic season a year ago ended with a loss to Bloomsburg University of the same Pennsylvania conference that California University is aligned with.
CIAA teams haven't fared well against the Pennsylvanians. Virginia Union University was eliminated three times from the NCAA playoffs by Pennsylvania schools — Shippensburg University in 1981, Edinboro University in 1990 and Indiana University of Pennsylvania in 1991. 
Coach Thweatt inherited the schedule designed by Coach Scott to toughen his squad for the upcoming CIAA games. It worked for Coach Scott. VSU was undefeated against CIAA foes under Coach Scott, who is now head coach at Norfolk State University.
There is reason to believe better days lie ahead. VSU is picked to win the CIAA Northern Division, but Coach Thweatt's opener certainly didn't follow script.
All-CIAA tailback Kavon Bellamy couldn't gain much traction and finished with just 32 yards on 14 carries.
Quarterback Tarian Ayres passed for 244 yards, but he was sacked five times for 43 yards in reverse.
California University seized an early 21-0 lead and amassed 477 yards total offense compared to 329 for VSU.
A bright spot was Willie Stubblefield, who caught a 27-yard touchdown pass from Ayres and threw a 20-yard touchdown pass to Ayres on a trick play.
A junior from Henrico County's Highland Springs High School, Stubblefield had four receptions for 90 yards.
Brandon Lynch, a sophomore linebacker from Norfolk, led VSU's defense with 12 tackles, including a sack.
Sophomore Matt Hillquist from Henrico County's Glen Allen High School booted a 23-yard field goal and averaged 43.5 yards on six punts.