Kearse helps VSU to 64-45 victory in Freedom Classic
Fred Jeter | 1/22/2015, midnight | Updated on 1/22/2015, midnight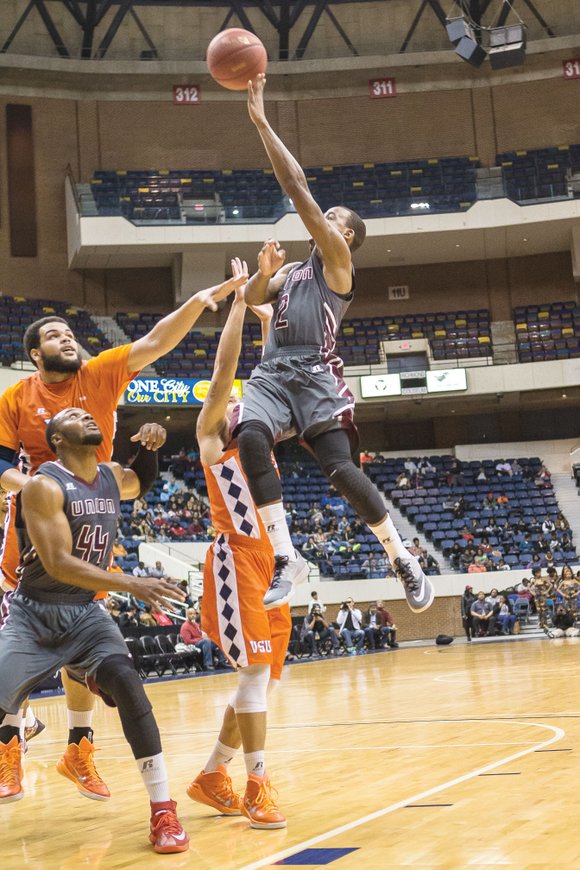 It is fitting Lamar Kearse wears blue and orange jersey No. 3 for the Virginia State University's Trojans.
After all, he's the CIAA's top 3-point marksman.
The 6-feet-tall senior from Syracuse connected on four of six 3-pointers and led all scorers with 16 as VSU routed Virginia Union University 64-45 in the 19th Freedom Classic at the Richmond Coliseum on Sunday.
It marked the third straight year VSU has won the Freedom Classic after losing 15 of the first 16 classics.
Leaving Kearse open is a costly mistake.
"Number 3 (Kearse) made some unbelievable shots," said VUU Coach Tony Sheals.
Entering this week, Kearse was 36 for 67 beyond the 20-foot, 9-inch arc for a glistening 54 percent. That's the equivalent of 79 percent on two-pointers.
Averaging 17.4 points, Kearse ranks a tight second in the CIAA scoring race behind Bowie State University's Cam Knox (17.7).
VSU's victory before a crowd of about 4,000 fans pumps its record to 11-5 overall and 5-2 in the CIAA.
With its 10th straight loss, Virginia Union slumps to 4-13 overall and 0-7 in the CIAA.
Kearse, a transfer student, was already on campus when Lonnie Blow arrived as the coaching successor to Darryl Jacobs in the spring of 2013. He sat out the 2012-13 season after two seasons as a regular at Division I New Jersey Institute of Technology in Newark.
His game has taken off as a senior.
He has emerged as not only an All-CIAA candidate but as a CIAA Player of the Year candidate as well.
His accuracy has surpassed expectations.
Kearse hit a mediocre 29 percent from the 3-point range as a junior while averaging 11 points.
He attributes his dramatically higher percentage to switching from point guard to wing guard, and practice, practice, practice.
"Before the season, I'd shoot hundreds of balls a day. I mean hundreds," he said. "In fact, I shot so much that I developed tendonitis in my right shoulder. Sometimes it hurts. Sometimes it doesn't."
Victories are always a salve for sore shoulders — or sore anything.
Kearse hails from a winning back- ground. He was part of three straight New York State Class A championships at Jamesville-DeWitt High in Syracuse.
One of his former prep teammates, DaJuan Coleman, now plays for Syracuse University. Also his uncle, Lazarus Sims, played at Syracuse University.
With freshman Tyler Peterson handling the point guard assignment, Kearse has become extremely efficient with his overall shot selection.
He's hitting 51 percent overall from the floor and has taken just 174 shots. By contrast, the CIAA's leading scorer, Knox, had launched 264 shots (for 41 percent) starting this week.
While Kearse was a top perimeter player on the floor against VUU, Trojans senior Tyrece Little was the most notable post performer.
The 6-foot-8 Little had 10 points, 10 rebounds and was an intimidating factor defensively. He is averaging close to double digits (10.1 points, 8 rebounds) for the season.
Little made the play of the night at the Richmond Coliseum.
In late going with VSU in firm control, Little woke up the crowd with an oh-my-gosh dunk in which it appeared his right hand rose halfway up the backboard.
From Greenville, N.C., the lithe, long-limbed Little was a three- year starter and second-team All-South Atlantic Conference player at Catawba (N.C.) College. Last season, he averaged 15 points and nine rebounds while blocking 69 shots for Catawba.
Coincidentally, Catawba College is the alma mater of former VUU coach Dave Robbins, who was in attendance at the Freedom Classic.