Forums deliver security tips to church leaders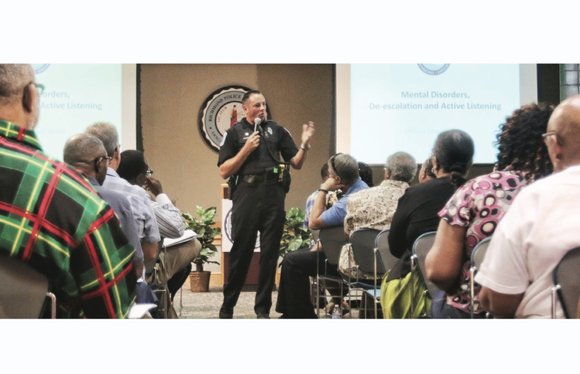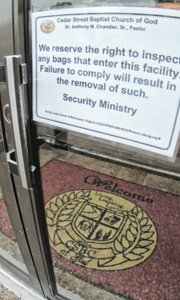 Richmond area faith leaders and congregation members are on heightened alert following the mass killing of nine worshippers at a historic Charleston, S.C., church last week and a frightening incident that followed at a church in South Richmond.
More than 200 religious leaders, congregation members and others gathered Saturday at the Richmond Police Training Academy on North Side at the Places of Worship Safety & Awareness Forum for a discussion on how to keep their congregants safe.
They heard tips from police, security specialists and faith leaders on how to respond to shootings in houses of worship, how to handle persons with mental illness, measures to ensure crowd control and staffing during events and how to prepare for other emergency situations.
RPD officials scheduled the forum prior to the horrific June 17 killings of Pastor Clementa Pinckney, a South Carolina state senator, and eight members of historic Emanuel African Methodist Episcopal Church in Charleston as they attended a Bible study at the church.
Richmond Police Acting Deputy Chief Steve Drew and others at the forum observed 20 seconds of silence at the start to remember the Charleston victims.
They then listened to speakers, watched videos and discussed strategies designed to help prevent further incidents like that in South Carolina.
"What we do here today may not prevent an incident from occurring. But we believe the more prepared you are, and the more planning there is, you can decrease the probability of an event like this from happening and can prevent some of the carnage," Deputy Chief Drew said.
Those in attendance agreed.
"Awareness, I think, is critical," said the Rev. Calvin Duncan, pastor of Faith and Family Church in Chesterfield County, who attended the forum. "You want to be welcoming to people, but you still have to be mindful. These are just the days we are in."
Rev. Duncan said his church pays a police officer to sit in a marked vehicle during both of the church's worship services to ensure safety and to guide cars onto the street following services.
The importance of security in churches, mosques, synagogues and other places of worship was brought closer to home a day after the South Carolina massacre when police confronted a white man outside the predominately black United Nations Church International on South Side. He was beating on a door outside the church, yelling racial slurs and threatening the congregation during a church event, police said.
A police officer working security at the church in the 5200 block of Midlothian Turnpike pointed a gun at the man, thinking he had a knife. The man actually had a long piece of plastic he used to bang on the door, police said.
He was taken into custody and transported under an emergency commitment order to Tucker Pavilion at Chippenham Hospital to be evaluated. Police have not released his name.
Police said at the public safety forum that the incident is under investigation and charges may be pending.
Also at the forum, Richmond Assistant Commonwealth's Attorney Janae Craddock said Virginia law allows people to carry guns into places of worship as long as they have the necessary permits.