Maggie Ingram, 'Gospel Queen of Richmond,' dies at 84
6/27/2015, 12:05 a.m.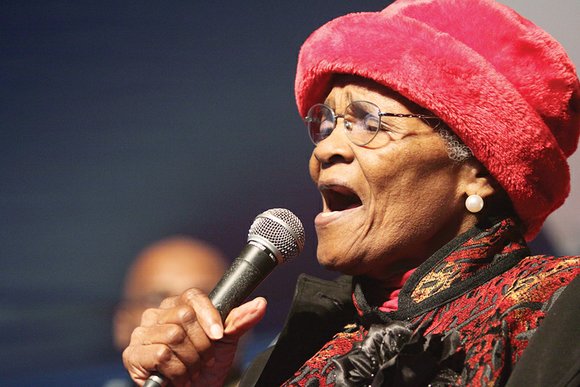 Evangelist Maggie Ingram — known as the "Gospel Queen of Richmond" — brought audiences to their feet in praise and worship at churches, festivals, auditoriums and other places for more than six decades.
The gentle woman with the warm smile was the matriarch of The Ingramettes, the gospel group that was comprised of several generations of the Ingram family.
Led by Mrs. Ingram's soul-stirring singing, the group wowed audiences in Richmond and up and down the East Coast. They performed at venues including The Kennedy Center for the Performing Arts in Washington, the Richmond Folk Festival, Dogwood Dell and in countless churches.
Mrs. Ingram is being remembered following her death Tuesday, June 23, in Richmond. "She was at home surrounded by family and friends," said her daughter, the Rev. Almeta Ingram-Miller, who sings with The Ingramettes.
She was 84.
Viewings will be held 4 to 8 p.m. Tuesday, June 30, and also from 10 a.m. to 8 p.m. Wednesday, July 1, at Wilson & Associates' Funeral Service, 5008 Nine Mile Road in Eastern Henrico County.
The community will celebrate her life at a funeral 11 a.m. Thursday, July 2, at Saint Paul's Baptist Church, 4247 Creighton Road, in Henrico County.
Word of Mrs. Ingram's death spread quickly among the faith community and other circles where she had touched so many lives.
"Her immense contributions to the intricate fabric of church worship and gospel music as a whole were only eclipsed by her extraordinary dedication to loving and raising her family," said Richmond gospel artist Larry Bland.
Mrs. Ingram was born July 4, 1930, on a plantation in Coffee County, Ga. She worked in the cotton and tobacco fields with her parents. She began playing the piano and singing at an early age.
At age 16, she married Thomas Jefferson Ingram. They had five children, and the family moved to Miami, where The Ingramettes was formed.
Mrs. Ingram moved to Richmond in 1961, where she raised her children in the East End. She worked for the city and later opened a day care business.
She also began a prison ministry and later opened her home as a "halfway house" to female inmates after they were released.
Early in the 1980s, Mrs. Ingram was licensed as an evangelist by the Church of God in Christ.
Meanwhile, Maggie Ingram and The Ingramettes continued to perform at hundreds of venues, uplifting the spirits of countless people.
Mrs. Ingram is survived by three sons, John Ingram, Lucious Ingram and Tommy Ingram; two daughters Rev. Ingram-Miller and Elder Christine Murphy; and a host of other family and friends.