'Living Legends Concert' brings together decades of gospel talent
3/20/2015, 3:33 p.m. | Updated on 3/20/2015, 3:33 p.m.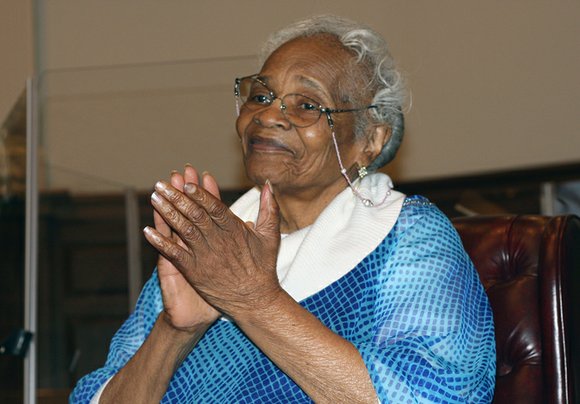 Maggie Ingram wore an angelic smile, her hands tightly clasped prayer-style as she sang.
She was performing with Maggie Ingram and the Ingramettes, the gospel group she founded more than six decades ago. This was the "Living Legends Concert," and the engaged audience of about 200 people at Thirty-first Street Baptist Church was most appreciative.
Ms. Ingram's high-energy gospel group was joined at the concert by performers with more than four decades each of gospel performance experience — the A. Alexander Singers, and Larry Bland, with his new group, Larry Bland and Promise.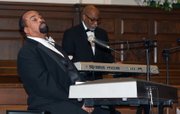 The legends concert was held to mark the East End church's centennial celebration.
The 84-year-old Ms. Ingram, known as the "Gospel Queen of Richmond," has lost much of her short-term memory to Alzheimer's disease. But she still can recall and sing most of the songs she has performed with the group during the last 60 years, said her daughter, the Rev. Almeta Ingram-Miller.
"The music's still in her heart. The music's still in her mind," said Rev. Ingram-Miller, who also performs with the group. "Every day she gets up with a beautiful smile on her face and says, 'I love you,' it just shows how good God really is."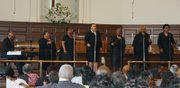 Ms. Ingram began singing gospel music as a child as she picked cotton with her parents on Mulholland's Plantation in Coffee County, Ga. She formed Maggie Ingram and the Ingramettes when she moved to Miami as a young adult with her family. The group has been wowing audiences ever since.
Ms. Ingram moved to Richmond in August 1961, where she raised her five children in the East End.
Today, the singing group includes three generations of Ingrams — the Rev. Ingram-Miller; Cheryl Beaver, Ms. Ingram's granddaughter; Valerie Stewart, her goddaughter; and Ms. Ingram's son, Lucious Ingram, who works as the group's musical arranger. All the songs are written by Ms. Ingram and the Rev. Ingram-Miller.
They performed songs at Thirty-first Street such as "Standing on the Promises of God," "The Family Prayer" and "Tribute to Dr. Martin Luther King."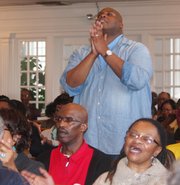 "Singing for the Lord has kept our family close all these years," the Rev. Ingram-Miller said. "We're going to keep on singing. This is our legacy."
Andrew Alexander, manager and keyboardist of the A. Alexander Singers, opened the concert with the group he founded in 1970 from singers at St. John Baptist Church in the Washington Park community on North Side.
Today, the group is comprised of Minister Shirley Green; the Rev. Arlene Winbush, pastor at First Baptist Church of Washington Park; Dr. Janet Copeland; the Rev. Annesto Younger; Gwen Baines; Constance Alexander; and Palma Pettis, all from Richmond.
They stirringly performed such classics as "I'm Looking For A Miracle" and "Lord, Do It."
"Our job is to edify people with the spirit of God," said Dr. Copeland, who joined the group as an original member at age 15.
"It's a joy being a part of this group. The struggles and obstacles we've had as group, God has brought us through every one of them. It seems like the more we do for Him, the more he elevates us."
As he has done for more than 40 years as the personable keyboard leader of Larry Bland and the Volunteer Choir, Mr. Bland revved up the audience at the legends concert. Performing with him was his new quartet — Russell Bennett, George Epps, Curtis Turner and Bernard Christmas.
Their powerful, soul-stirring songs included "I Still Have a Praise Inside of Me," "Let Your Light Shine Through Me" and "The Lord Surely Has Been Good to Me."
"The most rewarding thing for me when presenting is to have a real and spiritual connection with the audience while encouraging goodwill and love," said Mr. Bland, 61, who has been singing gospel music since age 7.
"I have had quite a ride," he said.