Ingram family carries on musical tradition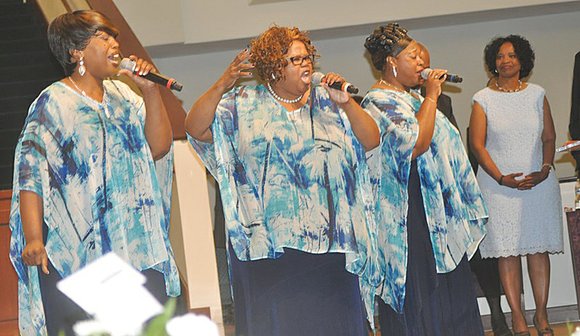 The Rev. Almeta Ingram-Miller said there was never any doubt that the renowned Ingramettes family gospel group would continue to perform after mother and founder Maggie Ingram died last June.
"The decision for us to continue was made long before Mom died," said Rev. Ingram-Miller, a lead singer in the Richmond-based group. "Because for us, it's never been about performing, but always about serving God, serving humanity and serving for the good of something greater than yourself.
"The ministry of Evangelist Maggie Ingram & the Ingramettes is so much more than any of one of us," she added. "Mom will always be with us in spirit as the ministry continues for generations to come through our family."
She said the Ingramettes will next perform its hand-clapping, soul-stirring music again Sunday, Oct. 11, at the 11th Annual Richmond Folk Festival.
The group also has performed in recent weeks at events in Berryville and Greensboro, N.C.
Rev. Ingram-Miller said the group dedicates each performance to God and to Mrs. Ingram, who was known as the "Gospel Queen of Richmond."
"There was only one Maggie Ingram, and she cannot be imitated or duplicated," her daughter said. "But God has blessed us to be able to continue to sing her music. It is music that makes the heart happy, as we celebrate her life through every song.
"It's been an emotional experience for all of us," she added, "but the songs remind us of who she was and who we aspire to be."
Rev. Ingram-Miller said she was 5 when her mother formed the family singing group in 1957.
At the time of Mrs. Ingram's death, three generations of the family were performing with the group.
Today, the Rev. Ingram-Miller said, "I am the only remaining original member of The Ingramettes, having sung with the group for 58 years. My niece, Minister Cheryl Maroney-Beaver, has sung with the group for 35 years. My Mom's goddaughter, Valerie Stewart, has been with us for 11 years."
She said her brother, Lucious, played for more than 50 years with the group's band before retiring.
Current band members, she said, are keyboardist Stuart Hamlin, five years with the group; bass guitarist Calvin "Kool-Aid" Curry, six years; percussionist/drummer Randall Cort, five years; and keyboardist Kenneth Heath, 16 years.