City betting millions on brewery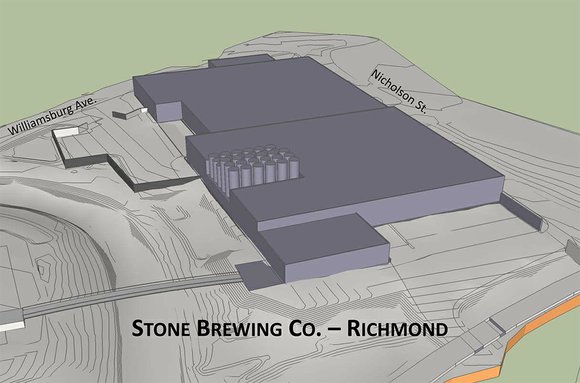 In its California hometown, Stone Brewery is a standout in San Diego's burgeoning craft beer market, with Stone's two beer gardens ranking as important tourist lures.
The company boasts that only the renowned San Diego Zoo and the LEGOLAND amusement park attract more visitors to the Navy port city with 4 million people in the metropolitan area or four times the population of metro Richmond.
Stone's success in the West has led Richmond to bet millions of dollars that the company can bring that same kind of business magic to this community — a view that a coalition of nearly 70 Richmond restaurants finds hard to accept.
Nonetheless, Richmond's city officials view Stone as a catalyst for growth, particularly for the city's eastern riverfront — a key reason Richmond aggressively sought to become the East Coast hub for the beer brewer and teamed with the state to offer substantial subsidies.
Among other things, the city is providing land for the brewery plant and the company's future beer garden that the city believes will ignite growth.
The city also is building the company's plant and restaurant through its economic development arm while allowing the company to pay back the estimated $31 million expense over 25 years at government interest rates — rates far below what other businesses must pay.
The company, itself, is to invest $42.7
million in beer production equipment and furniture, but will benefit from a lease in which its payments will be fixed, a contrast with other restaurants that face an escalation in rent almost every year.
As Mayor Dwight C. Jones and his ad- ministration sees it, Stone's operations will create a major anchor in Fulton that will pay off in expanded tourism and a wave of private development — a vision that has enraptured Richmond City Council, which voted 9-0 Monday to allow the transfer of public property to advance the effort.
The specific property: The vacant Intermediate Terminal building in the 3100 block of East Main Street, the site that will be the future home of the company's restaurant.
"This development is going to expand the market," insists Lee Downey, Richmond's chief development officer, in explaining the importance of Stone's arrival.
He said that Stone's beer gardens are a proven draw that will bring more people into the city and encourage more investment.
Mr. Downey said he has started hearing from developers who are intrigued by the Stone development and consider the area ripe for apartment, condo and retail development.
That's the point Mr. Downey is now trying to get across to the coalition of skeptical restaurant owners who see the city providing major help to a competitor they consider a threat to take their customers and kill their businesses.
Dirk Graham, owner of Bottoms Up Pizza, is among those deeply concerned about a future that includes the Stone Brewery bistro and beer garden, an op- eration that would be among the largest restaurants in the area.
He said his business in Shockoe Bot- tom — once the star entertainment district for the region — is still recovering from the recession. He said his business has fallen off 25 percent, and having a big competitor backed with city funding will
not help.
Michael Byrne agrees. He once operated
the Richbrau craft brewery and restaurant in Downtown and is now an executive with the Tobacco Company restaurant in Shockoe Slip. He helped pull together the opposition coalition and believes that Stone's success will come at the expense of existing restaurants.
Mr. Downey acknowledges that down the road, when the Stone restaurant opens in three to five years, there could be an initial hit to existing restaurants as locals try the new place.
But he said in his view, locals will return to familiar haunts, while more people come from farther away to check out Stone and Richmond.
He also believes the Stone development will once again make Richmond attractive to river cruises and reawaken interest in restoring Intermediate Terminal to expand the city's role as a boating destination.
One thing is certain — it will be years before taxpayers know whether the bet pays off or proves to be another bust.