Violent crime in city down in 2015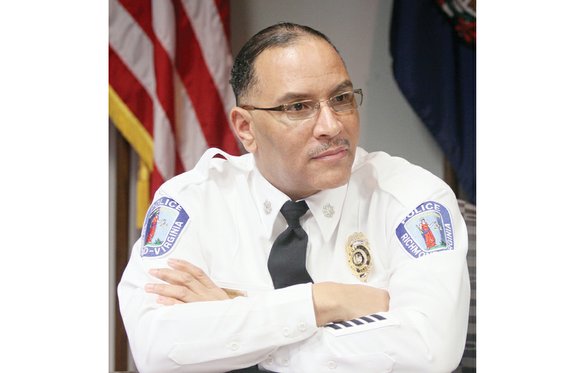 Mayor Dwight C. Jones and Police Chief Alfred Durham trumpeted a major decrease in violent crimes committed in the city during 2015 at a news conference last Friday.
But the grim reality of crime's impact on the community was illustrated when Charlene Boone stepped to the podium during the officials' announcement last Friday at the Richmond Police Training Academy.
With tears rolling down her face, Ms. Boone described the grief she has experienced since her 20-year-old son, Ke'Shawn Hargrove, was killed in August in an exchange of gunfire with two police officers during a foot chase that ended in a West End alley.
The officers, who were cleared of any wrongdoing after an investigation by the Commonwealth's Attorney's Office, were responding to reports of a man carrying a gun in the neighborhood. Officer Ryan Bailey was struck in the arm by a bullet during the exchange and has since recovered.
"It was senseless for Ke'Shawn to be out there shooting at police officers when he had no business being out there," his mother said. "He was a convicted felon and shouldn't have had a gun."
She said her son had been released shortly before the shooting from a juvenile detention center after spending five years there.
Chief Durham and other officers praised Ms. Boone, who while still in shock over her son's killing, pleaded with angry community members to remain calm and not strike back at police officers or others after the shooting and said her son was at fault.
"It still hurts today," Ms. Boone said of the loss of her son. "I miss Ke'Shawn so much. The media made him out to be some kind of a monster, but he wasn't."
As Ms. Boone delivered her heart-rending story, a nearby table displayed more than 50 pistols, rifles and other firearms that Richmond police took off the streets during their annual Fugitives and Firearms Initiative in 2015 with the help of the Virginia State Police. After the annual sweep, 240 firearms were recovered, 585 arrests were made and another 366 individuals were apprehended who were wanted on warrants.
Motioning to the table, Chief Durham said, "These are some of the weapons used by people to take lives and settle disputes." Then he added, "These only represent one month's worth of weapons" recovered by law enforcement officers.
"We've got to get these guns off the streets," Ms. Boone emphatically added. "I don't want to see any more killings."
As they discussed the city's annual crime report from the preceding year, Chief Durham and Mayor Jones noted a 12 percent drop in violent crimes from 1,265 in 2014 to 1,116 in 2015. They said it was the greatest percentage drop in seven years and the lowest level seen in the city in 45 years.
Mayor Jones called the decrease in violent crimes "the best news we could have as a community."
The police chief and mayor also stated that 39 homicides were committed last year, compared to 42 in 2014.
Bucking the downward trend, there was a 2 percent increase in property crimes, from 8,531 in 2014 to 8,733 in 2015, including a 22 percent spike in thefts from vehicles.
Chief Durham also announced a new program, Gun250, designed to remove more illegal guns from city streets.
Scheduled to start in February, it would allow individuals who text tips that lead police to recover an illegally possessed gun to earn up to $250 in reward money.
Chief Durham said the department has secured the funds to provide initial reward money, but would ask businesses to donate for future rewards.
The chief and mayor also unveiled a public service announcement they made in an effort to reduce thefts from vehicles. In it, they encourage city residents to "take their stuff or someone else will."