Yankees outfielder Aaron Judge shattering height records, TVs in the major leagues
Fred Jeter | 5/26/2017, 5:58 p.m.
Aaron Judge is large and in charge.
The New York Yankees rookie right fielder has head-turning size, with talent to match. He also stands above the crowd with his "Wow!" factor.
"The whole stadium stops when Aaron comes to bat," teammate Matt Holiday told Yankees Magazine.
"He's a beast," added teammate, Dellin Betances. "If I wasn't on his team, I'd buy an expensive ticket to watch him play."
Judge has lived up to the hype and then some.
Through his first 28 games, Judge has led the American League with 14 home runs, many of the towering, jaw-dropping variety.
The 25-year-old African-American from Linden, Calif., also had 29 runs batted in — tied fourth in the American League — while hitting .331 and helping the Yankees to a 24-16 record to tie the Baltimore Orioles atop the AL East.
At 6-foot-7 and a well-tapered 282 pounds, Judge ranks among the tallest and heaviest non-pitchers ever to reach the big leagues.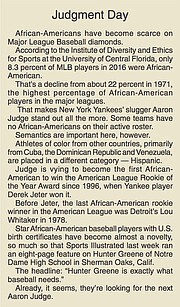 Even Judge's pinstriped jersey – No. 99 – seems oversized in a sport played mostly by average-size men. Dating to the late 1800s, only 11 non-pitchers as tall as 6-foot-7 have ever reached the majors.
What better place to shine than in the media capital of the world? Even the Wall Street Journal has run a profile on Judge.
Right field at Yankee Stadium holds a revered chapter in baseball lore. Some of the most legendary sluggers in baseball annals patrolled right field at the Yankees' ballyard at 1 E. 161st St. in the Bronx. The list starts with Babe Ruth.
Roger Maris, Dave Winfield and Reggie Jackson were among others who came later.
Judge, who has flexed prodigious power from the right side of the plate, might be able to wallop a baseball farther than any of them. Through Judge's first 88 plate appearances, the average velocity of a ball leaving his bat was 94.9 mph. That compares to the league average of 87.7 mph.
His 13th homer on May 3, when the Yankees took on the Toronto Blue Jays, was clocked at 112.5 mph leaving the bat.
Then there's his name.
It is apropos Judge's first name stirs memories of former all-time home run king Hank Aaron, who played mostly with the Atlanta Braves.
Judge was born April 26, 1992, and adopted the next day by Patty and Wayne Judge, both Linden High School physical education teachers.
Using his considerable size, strength and speed, he starred in baseball, basketball and football at the California High School, earning college scholarship offers in all three.
Stanford University and the University of Notre Dame were among his football suitors.
"But baseball was in my heart," Judge told Yankee Magazine.
Judge chose baseball at Fresno State and was drafted by the Yankees in the first round in 2013. He was the 32nd overall pick.
On his way to the Bronx, he spent part of 2015 with the Class AA Trenton Thunder in New Jersey. He missed the Thunder's series with the Richmond Flying Squirrels due to injury.
Judge was promoted to the New York Yankees in September and played the final month with the parent club without losing rookie status for this year.
Nothing seems beyond the reach of Judge when he launches a baseball.
Yankee Stadium recently installed a jumbo TV screen far behind the left-centerfield fence. It was assumed it was out of reach—and it is for more players, but not Judge. During pregame batting practice on May 2, Judge belted a ball more than 500 feet that smacked against the screen, shattering a section.
"The guys have been kidding me all night," Judge said in a postgame interview. "They told me the team was taking it out of my check."