Aaron Judge leads AL in homers and RBIs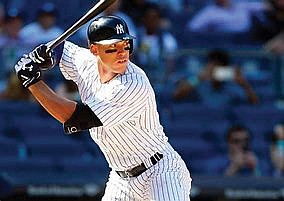 Everything about Aaron Judge is labeled extra-large.
That goes for his size (6-foot-7, 282 pounds), his jersey number (99) and his ever-expanding muscular achievements.
The 28-year-old New York Yankees right-handed right fielder is a mountain of a man with home run totals to match.
Earlier this month, Judge homered in five straight games, including two bombs in a 9-7 victory over the Boston Red Sox on Aug. 3.
The first home run hit traveled 419 feet into the New York skyline and was clocked at 107.9 mph coming off the bat barrel.
That was a mere tune up for Judge's second homer, an even more majestic 468-foot blast timed at 107.4 mph.
"If the pitcher puts it over the plate, I've got to do some damage to it," Judge told Inside The Pinstripes.
The only Yankees to have longer streaks of homers in consecutive games are Don Mattingly, with eight, and Roger Maris and Lou Gehrig, with six each.
"It's an honor to be in the same sentence with those guys," Judge said. "I'm just out there trying to do my part."
As of Aug. 10, Judge leads the American League in homers with nine, and in runs batted in with 19. That's through 16 games.
Judge's fence-clearing prowess has not been in vain.
The Bronx Bombers started the season 9-3 and atop the American League East. The Yankees are looking for their 28th World Series title and their first since 2008.
Judge was the Yankees' first round draft choice in 2013, and 13th pick overall.
He paid his dues in the minors, including part of 2015 when he starred (12 homers in 63 games) for the Eastern League Trenton Thunder of Trenton, N.J., an opponent of the Richmond Flying Squirrels.
Now in his fifth season in Gotham, Judge, the 2017 AL Rookie of the Year, has 117 homers in 408 career games.
That total would be significantly higher if not for missing 50 games in both 2018 and 2019 with injuries.
He holds the MLB record for fastest player to ever reach the 60 home run plateau. Judge did it in just 197 games.
Judge also holds the record for hardest ball ever hit — 121.1 mph in 2017. He also was the first rookie in big league annals to hit at least 45 homers, drive in at least 100 runs, and score at least 100 runs.
In addition, in 2017 he set an all-time rookie record with 127 walks.
On the debit side, the native Californian and former Fresno State University standout holds the rookie record for most strikeouts in a season — 208 — and for striking out at least once in 37 straight games.
He swings hard and sometimes hits nothing but air. Through Aug. 7, he had 278 career walks compared to 557 strikeouts.
While Judge tails behind the likes of Los Angeles Angels Mike Trout and Los Angeles Dodgers Mookie Betts as the sport's top all-round talent, he is arguably the player fans most want to see with his other-worldly power.
Judge's combination of size and athleticism is unlike any player before him, even for a storied franchise like the Yankees.
You don't want to go to the refrigerator, or even turn your head, when No. 99 strides to the plate. You might miss seeing something you've never seen before.
All rise! Judge has become the Big Apple's biggest attraction.